Choosing the Right Nicotine Strength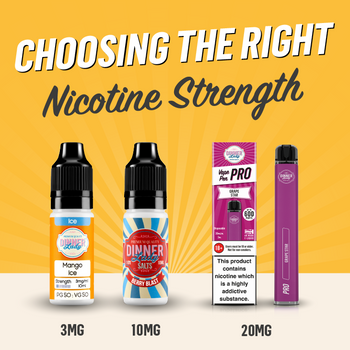 Accounting for approximately 78,000 deaths each year, the NHS names smoking as the biggest preventable cause of death in the . It therefore comes as no surprise that the NHS considers reducing smoking rates to be the most effective way to improve the overall health of the population.
While many smoking-related health issues are caused by tobacco, it's nicotine that prevents many from quitting. Containing high doses of nicotine, cigarettes are highly addictive and make quitting much more difficult than you might first expect.
Nicotine in cigarettes vs e-cigs: how vaping differs from smoking
The purpose of vaping is relatively simple: to offer smokers a less harmful alternative to traditional tobacco products. With different strengths of nicotine to choose from, vaping products allow ex-smokers to gradually reduce nicotine intake over time, thereby reducing the severity of withdrawal symptoms and ultimately helping them to stop smoking.
The dangers of nicotine
Nicotine is so addictive that immediate withdrawal from the substance can cause adverse symptoms, reactions and emotional responses. These include:
-Unsatiable cravings
-Mood swings and irritability
-Insomnia and fatigue
-Restlessness and trouble concentrating
-Increased appetite
-Headaches and dizziness
-Anxiety and depression
Since these symptoms peak during the first weeks and months of quitting smoking, it should come as no surprise that the "cold turkey" method of quitting is not the most effective way to switch. 
Nicotine strength
When it comes to switching to a less harmful alternative to smoking, nicotine strength makes all the difference.
Though it may be tempting to choose a nicotine strength that's based on that of a cigarette, it's not quite that simple. For a start, e-cig liquids and vape juices are free from tobacco and many of the other chemicals that exist solely to boost the effects of nicotine.
Not all e-cig liquids are made the same and a 50:50 e-liquid has a much different throat hit to a similar strength Nic Salt. Nicotine salts are formulated to replicate the experience of smoking traditional tobacco products and thereby offer a stronger and more familiar nicotine hit than freebase nicotine.
Choosing the best e-cig juice and the right nicotine strength ultimately depends on the number of cigarettes you smoke, your smoking style, your body mass and your lung capacity. As a general rule of thumb:
18-20mg Nicotine
18-20mg is the highest strength of nicotine available in the UK. This strength of e-cig juice with nicotine is best suited to heavy smokers who consume one packet of cigarettes or more each day.
E-cig liquids of 18-20mg of nicotine should be used with refillable pens and refillable pod-style devices. These types of devices tend to have a low wattage and a higher ohm coil that produces discreet vapour with maximum flavour for a mouth-to-lung vaping method that most closely resembles that of smoking.
For those new to vaping, the Dinner Lady Disposable Vape Pen and Vape Pen Pro make vaping simple. Containing 20mg of Dinner Lady's 20mg Nic Salt e-cig liquid, both disposable e-cigs are pre-charged and ready to vape out of the box.
Providing up to 600 puffs, the Dinner Lady Disposable Vape Pen Pro is a prime example of disposable e-cigs with nicotine that are popular with existing vapers who prefer a higher nicotine strength in a discreet and convenient format.
12mg Nicotine
E-cig liquids with 12mg of nicotine are designed especially for the average smoker who smokes up to one packet of cigarettes a day. 12mg is the ideal mid-strength to start your vaping journey and keep the cravings away to leave the cigarettes firmly in the past.
While 12mg 50:50s and Nic Salts are best suited to refillable pens and refillable pod devices, 12mg 30:70 e-liquids are great when paired with pod mods or box mods. Choosing between 50:50 e-liquids and 30:70 juices depends entirely on your vaping style – more on that here.
6mg Nicotine
6mg of nicotine is a low-medium strength that most closely resembles Ultra-Light cigarettes. E-liquids with a 6mg nicotine strength are ideal for light smokers who smoke up to 10 a day.
While 6mg 50:50s and Nic Salts are best suited to refillable pens and refillable pods, 6mg 30:70 e-cig liquids are best when paired with pod mod and box mod-style devices. Find out more about the difference here.
3mg Nicotine
3mg is the lowest nicotine strength you can get and is the very last step before making a firm and final switch to a less harmful alternative to cigarettes. E-cig liquids containing 3mg of nicotine are great for extra-light smokers who smoke just a couple a day.
While 3mg 50:50 e-cig liquids and Nicotine Salts are best suited to refillable pens and refillable pod-style devices, 3mg 30:70s are the best e-liquid for refillable open pod mods and box mod devices – find out the difference between 50:50s and 30:70s here.
0mg Nicotine
Last but not least, 0mg of nicotine is perfectly suited to those who no longer suffer from nicotine withdrawal symptoms and are in the final stages of making the switch or for those who prefer to mix their own nicotine strength. Dinner Lady Shortfills are the ideal base for those who prefer to opt for a low-nicotine e-cig or a 0-nicotine e-cig.
Comprised of 30% PG and 70% VG, Shortfills are specially formulated to create impressive, dense clouds with a rich flavour and are the most popular choice for box mod vape liquid.
The ideal nicotine strength
Though the ideal nicotine strength depends on your smoking habits, vaping experience, vaping style and other lifestyle factors, choosing the best e-cig juice shouldn't cause a headache.
If you still need a helping hand, get in touch with us by sending an email to support@vapedinnerlady.com or giving us a call at 01254 865915. It would be our pleasure to help you find the best e-cig juice for you.