E-Liquid and Devices For making the switch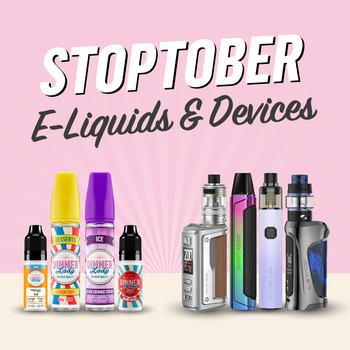 Are you looking to make the switch during Stoptober? Stoptober has become a regular event for many people to stop bad habits. Taking a break from alcohol could also make a positive impact on your quality of life and wellbeing.
Stoptober was launched in 2012 by Public Health England to make it easier for people to get support and stay motivated to stop smoking during October month. According to the NHS, If you can stop smoking for 28 days, you are 5 times more likely to give it up for good.
Can Vaping Help Me Stop Smoking?
Vaping isn't the magic bullet to stop smoking – you still need will power and support. Vaping has its own side effects, so you need to be wary. Stopping smoking overall is a lot healthier for you and makes a major difference to your quality of life.
What Do You Need To Get Started With Vaping?
To get started, you'll obviously need a vaping device. You'll also need e-liquid for your vape as per your desired flavour, remember to use the right E-Liquid for your device. If you're new to vaping, first you need to understand common types of vaping devices and e-liquids for a great vaping experience.
One of the easiest and hassle-free ways to get started with vaping for Stoptober is disposable vaping. These are small and portable devices that come with up to 400 in our Vape Pen or up to 600 puffs in our vape Pen Pro disposable devices.
Dinner Lady E-liquid Collection For Stoptober
E-Liquid is one of the core components of a vaping device, also known as e-juice, vape juice, vape liquid and pocket fuel. E-Liquids come in 50:50 or 30:70, this is the ratio of PG to VG and each ratio is better for different devices.
With an even blend of VG and PG, 50:50 e-liquids provide a balance of flavour delivery and vapor production. Dinner Lady 50:50 liquids are versatile and can be used in a range of devices to provide both an MTL (mouth to lung) and a DTL (direct to lung) inhalation hit. 50:50 liquids are available in a range of flavours with 4 different nicotine strengths; 3mg; 6mg; 12mg and 18mg.
Nicotine Salts (also commonly known as Nic Salts) contain more nicotine than standard 50:50 E-Liquid bottles, due to the strength of the nicotine they are designed for smokers who are used to a lot of nicotine. The chemical composition of the compound is designed to enter the bloodstream at a much faster rate.
Following the EU's Tobacco Products Directive of 2016, e-liquid with nicotine can only be sold in 10ml bottles. Dinner Lady Shortfills contain 50ml nicotine-free e-liquid in a 60ml bottle, allowing vapers to add either a nicotine shot to create their own, DIY Shake and Vape formulation.
Often referred to as Cloud-Chasing Juice, Shortfills combine 70% VG and 30% PG to create impressive, dense clouds with a rich flavour.
Dinner Lady recognizes that some vapers like to experiment. Concentrates are the ideal e-liquids for vapers who like to create their own DIY flavour combinations. Concentrate e-liquids are 100% PG, serving as the perfect base on which to create a unique flavour palette. You can also add Nic or CBD shots to make your experience unique.
Vaping Brands Available At Dinner Lady
We have all the well-known and renowned brands to offer our customers a wide range of opportunities to explore and experiment.
Dinner Lady's Vaping Devices For Stoptober
We have a wide range of vaping devices to suit everyone's needs and style. You can visit our online store and explore more.
Disposable Vape Pens
Aiming to develop the best disposable e-cigarette on the market, Dinner Lady's Disposable Vape Pen is the first and only device to be pre-filled with Dinner Lady's e-liquids so of which are award winning flavours.
The disposable e-cigarette is a small, pen-style device that easily fits in the pocket for on-the-go vaping. Made from a durable aluminum body, the Dinner Lady Vape Pen has a smooth and rounded shape that is lightweight yet sturdy in the hand. Designed with convenience in mind, the device is disposable and requires no refilling or charging. Simply vape and dispose of when empty.
Named for their resemblance to a pen, pen-style devices are designed with practicality and everyday use in mind. Often utilizing a top-fill system, pen devices minimize the risk of mess and leakage for fuss-free vaping.
Now equipped with more powerful batteries than ever before, pen-style devices provide a great vaping experience within the convenient and easy transportable shape.
Pods are often small, simple and discreet devices that require no modification except to replace the pod or refill when the e-liquid is depleted.
A refillable pod device is an open vape system that uses pods to contain e-liquids. Unlike the originally closed system pod kits, many refillable pod kits can be refilled with e-liquid once depleted. Simply remove the pod, re-fill the pod with liquid and put back into the device.
Pre-installed with coils of different resistance levels, refillable pod devices allow for the utilization of different vaping styles such as sub ohm, direct to lung vaping and mouth to lung vaping for greater freedom within a conveniently sized vape device. Refillable pod devices also provide vapers with the freedom to refill with an e-liquid flavour and formulation of their choice.
As pod devices are often less complex than box mod type devices and are excellent starters or on-the-go devices.
Combining the convenience of a refillable pod kit but with the greater level of personalization provided by a box mod, pod mod devices allow vapers to customize power output to customize the vaping experience.
Unlike many refillable pod devices, many pod mods utilize adjustable airflow settings and are compatible with a range of different resistance coils, allowing vapers to use both nicotine salts and freebase e-liquids. This means that pod mods provide vapers with greater freedoms over vaping preferences including mouth to lung (MTL) vaping which most closely resembles smoking a traditional cigarette and direct to lung (DTL) vaping which provides impressive clouds and rich flavour.
Designed for cloud chasers, the box mod device utilizes one or two powerful, high-capacity batteries to create impressive cloud and rich flavour.
So named for their box-shaped design, box mods are large, customizable and equipped with innovative chipsets to provide a greater level of freedom over wattage, voltage and temperature settings for a personalized vaping experience. Box mods are so versatile that vapers are often granted the ability to change numerous aspects of the device including the battery type, atomizer and tank.
Though somewhat bulkier than the smaller pen-style and pod devices, box mods are especially advanced pieces of technology that deliver serious power to the coil to create an intense vaping experience with huge vapor and incredible flavour.
For advanced users, the box mod is a no brainer due to its durability and lifespan.
Compatibility Of The E-Liquids With Vaping Devices
If you're new to vaping, finding the right e-liquid for your vaping device can be a challenge. There are hundreds of e-liquids available, and numbers are only growing. If you want to check your e-liquid and vaping device compatibility, the quickest and easiest way to do this is to look at the coils for your device.
Replaceable coils will always have the ohm rating printed on them. Check the metal casing and look for the ohm rating, then follow the guideline to find out if you should use a higher PG or higher VG e-liquid.
Final Thoughts
Stoptober is a great community experience to finally stop smoking and you will find out yourself how much it could change your life. Tell us about your experience or your future plans on our socials and be a part of the community.
Thanks, From everyone at Dinner Lady