Finding the Best Refillable Pod System – Open vs. Closed Pod Systems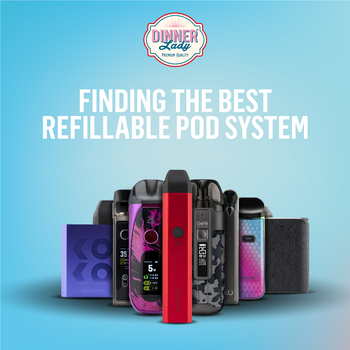 Small and discreet devices that require no modification except to replace or refill the pod when the e-liquid is depleted, pod devices are convenient, simple to use and are dominating the vape market.
CLOSED SYSTEM PODS
Launching first as a pod system with a replacement cartridge that is pre-filled with e-liquid, the closed pod is highly praised for its simplicity and ease of use. So named closed pods after their closed cartridge system, closed pods like the JUUL pod and Vype e-pod require replacement pods that are pre-filled with e-liquid and have built-in coils. Requiring no maintenance except for charging, it's easy to see why the closed system pod device is so popular.
Such convenience and ease of use inevitably has some downsides, however. While the convenience of pod devices has received high praise, some vapers feel restricted by the lack of personalisation allowed by a closed pod device.
OPEN SYSTEM PODS
Developed with the same convenience in mind as closed system pods but with greater freedom, the refillable pod mod has grown increasingly popular in recent months. Well-loved for its open cartridge system that often retains the convenience of built-in coils, pods with open systems allow vapers to refill the e-liquid reservoir for greater control over e-liquid flavour, formulation and nicotine strength.
What's more, refillable pod mods can be cheaper and more environmentally friendly to run and maintain due to much cheaper consumables that last longer than the lifespan of one single pod of e-liquid.
Like the JUUL Pod and Vype E-Pod, refillable pod systems are "simple and satisfying" with regulated temperature controls, rechargeable batteries and inhalation activation with the added bonus of providing greater freedom over taste, consistency and strength.
With a greater choice of hardware designs, refillable pod mods often have higher capacity batteries and more powerful systems for greater freedom over each vape. By choosing a refillable pod device, vapers will have more control over their vaping preference and, with this particular device, can choose between a mouth to lung (MTL) or direct to lung (DTL) vaping experience depending on preference and chosen e-liquid formulation.
Dinner Lady e-liquids can be used with all open system pods, providing vapers with an incredible choice of premium e-liquids. With an extensive range of e-liquids from six different flavour ranges, vapers can enjoy incredible Dessert, Sweets, Fruits, Ice, Menthol and Tobacco flavoured vapes from their pod device.
CAN YOU REFILL JUUL PODS?
As a closed-system pod, Juul Pods cannot be refilled or reused once empty. Pods must be thrown away and replaced with a cartridge that is prefilled with one of five flavour choices with a nicotine strength of either 9mg or 18mg.
Refillable pod mods
, on the other hand, allow vapers to choose from the wide variety of vape brands that produce incredible e-liquid flavours in varying nicotine strengths and formulations.
When choosing a refillable pod device, vapers can fill their devices with e-liquids from plenty of vape brands, including from Dinner Lady's extensive selection of premium e-liquids. With over 50 flavours across seven different flavour ranges, vapers can enjoy the full vaping experience by finding a favourite flavour (or flavours!). With varying levels of nicotine strengths – from 0mg to 20mg – vapers also have better control of their vaping experience and can lower their nicotine intake over time.
HOW TO REFILL VYPE E-PODS?
Like the Juul pod, Vype's E-Pod is a closed-system pod device and so cannot be refilled or reused once empty. When the e-liquid reservoir is depleted, simply dispose of the pod and replace with another pre-filled pod.
For vapers seeking more freedom over their vaping habits, Dinner Lady stocks a wide selection of popular refillable pod devices which allow vapers to refill their pods with their favourite e-liquids from a range of different vape brands. By upgrading to a refillable pod device, vapers will have greater flavour choice and more control over their nicotine intake. With some refillable pod kits, vapers can adjust airflow to facilitate both a mouth to lung (MTL) and direct to lung (MTL) vaping types.
HOW TO REFILL PODS WITHOUT LEAKING?
To refill a refillable pod mod device, simply open the top of the pod and pour in the new liquid. Close the top securely and vape as usual. Take care to leave some room in the pod – over-full pods pose a greater risk of leaking.
HOW MANY TIMES CAN YOU REFILL PODS AND HOW LONG DOES EACH POD LAST?
For new refillable pod systems, the amount of time that refillable pods last for varies greatly depending on factors such as the individual's vaping habits and the device itself. As a general rule of thumb, pods should be changed every 3-5 days but could be more or less frequent depending on length of draw, frequency of vaping and even e-liquid consistency or flavour.
WHICH REFILLABLE POD MOD IS BEST FOR ME?
A premium UK vape brand on a mission to help smokers kick the habit and switch to a healthier alternative, Dinner Lady stocks a wide range of devices to pair with premium Dinner Lady e-liquids such as the award-winning Lemon Tart.
With plenty of best-selling refillable pens and pod mods, vapers can choose from best-selling devices from popular brands such as Smok, GeekVape, Innokin, Uwell, VooPoo, Vaporesso, Upends and Lost Vape for a device that best suits the individual's vaping needs.