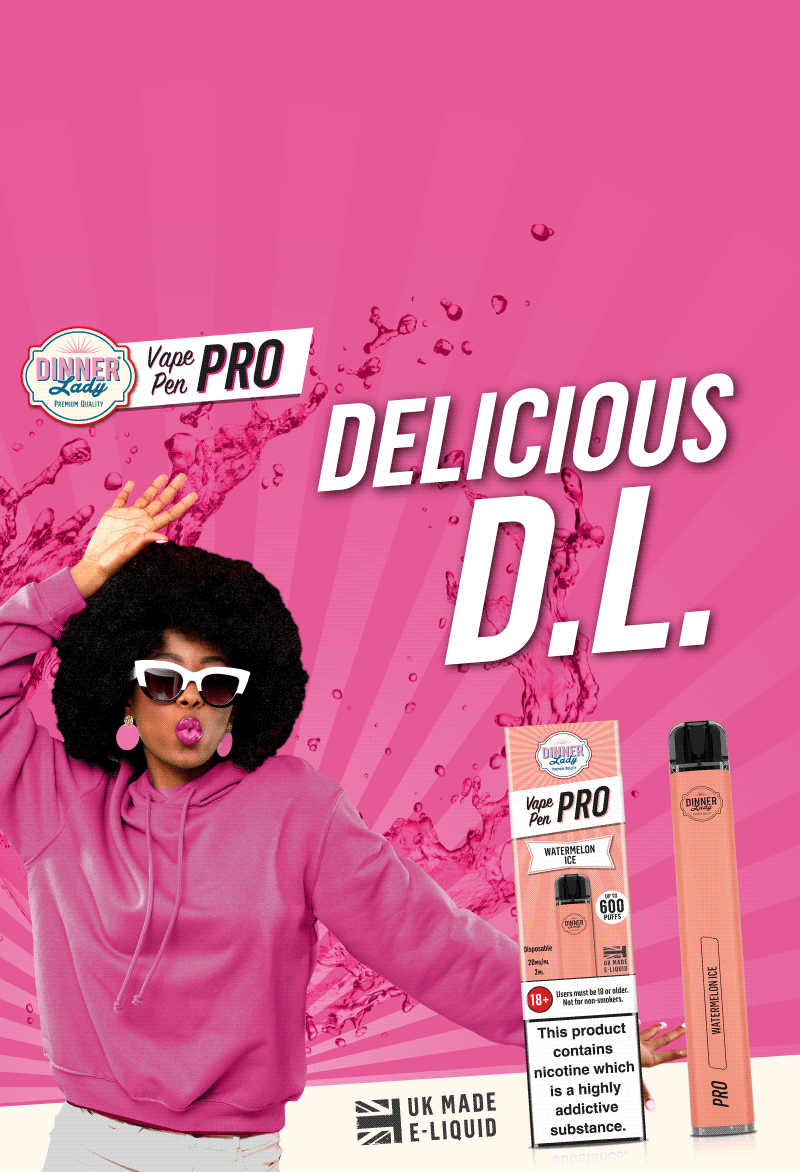 Collection:

Disposable Vape Pen Pro
Dinner Lady Disposable Vape Pen Pro
KEY FEATURES
• Charged and ready to vape straight out of the box
• Up to 600 puffs
• Slim and discreet Stainless Steel+PETG rubber paint with a silk print
• Comfortable and ergonomic food-grade mouthpiece
• No fuss, no leaks, no refilling
• Sealed for freshness
Introducing the Dinner Lady Vape Pen Pro – Prefilled with Dinner Lady's award-winning e-liquids.
Available in a selection of 14 flavours including several best-selling and brand-new flavour profiles from the Drinks, Fruits, Ice, and Menthol ranges. Specially reformulated by Dinner Lady's development team to match the specific output deliverance, coil and battery performance of the device, the Vape Pen provides optimum flavour and performance that is unrivalled by any disposable device on the market.

With a 2ml prefilled e-liquid tank containing 20mg of nicotine salt e-liquid. Utilising premium nic salt e-liquid, Dinner Lady's Vape Pen Pro provides a smooth throat hit with enhanced flavour and discreet cloud production for a mouth to lung (MTL) style vaping experience that most closely resembles the sensation of smoking a traditional cigarette.

Equipped with a bespoke 1.2ohm coil and an impressive grade A, Li-Ion 500mAh battery, this disposable pen provides up to 600 puffs for a simple and convenient vape that is designed to help you transition from smoking to vaping with ease.

Made from a stainless-steel + PETG rubber paint with silk print body. Dinner Lady's vape pen is fireproof and can withstand over 9kg of pressure. The micro control unit (MCU) also provides the ultimate battery protection while the printed circuit board (PCB) controls voltage for extra safety when vaping.
FLAVOUR PROFILES
The all new Vape Pen Pro by Dinner Lady introduces a few familiar vape flavours, as well as a massive selection of BRAND NEW flavours!
See below for all the new Vape Pen Pro flavours, which will you choose?
Drinks Flavours - Red Thunder
Fruits Flavours - Double Apple and Strawberry Watermelon.
Ice Flavours - Banana Ice, Watermelon Ice, Blueberry Ice, Strawberry Ice Cream, Peach Ice, Tropic Mango Chill, Lychee Ice, Grape Star, Pink Lemonade and Blue Razz Lemonade.
Menthol Flavours - Spearmint Menthol.
Dinner Lady Disposable Vape Pen Pro Reviews
★★★★★
Don't just take our word for it - the Vape Pen Pro has been highly reviewed by independent, reputable and experienced vape websites. Here is what they had to say about the Dinner Lady Vape Pen Pro;
Ecig Click
"Dinner Lady return with the Vape Pen Pro and serve up a variety of flavours designed to suit the casual or mainstream vaper. By lowering sweetness levels and curbing the intensity of Menthol, you're less likely to turn your nose up at these disposables".
The Electonic Cigarette
"Dinner Lady has returned to the market once again with a brand new disposable vape: the Vape Pen Pro. This new disposable really ramps up the flavour compared to its previous design".
My Cigara
"Thanks to their Vape Pen Pro series, Dinner Lady have managed to stand out and establish themselves as a serious contender in the ever-expanding and very competitive disposable vape market".