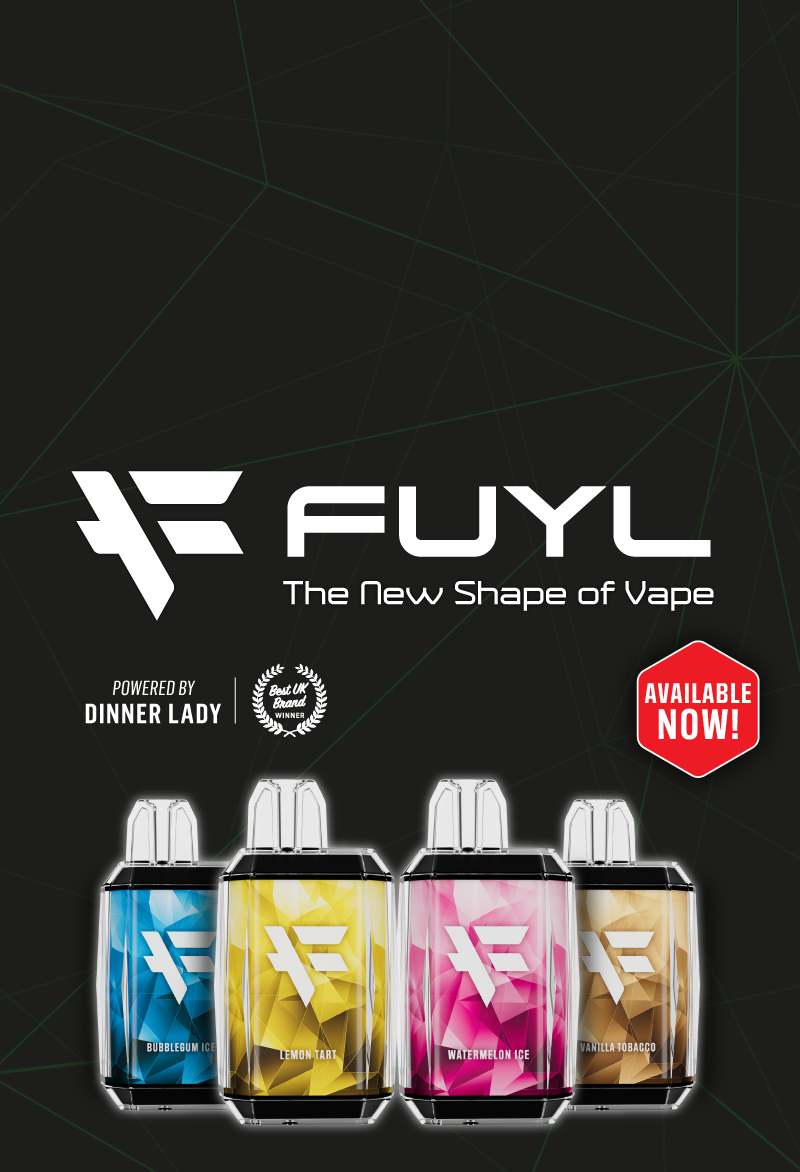 Collection:

Fuyl Disposable Vape
FUYL 600 PUff Disposable Vape
Introducing our FUYL product collection featuring the FUYL 600 Puff Disposable Vape, pre-filled with premium Dinner Lady e-liquid! Enjoy an effortless, smooth, and flavourful vaping experience with the 'New Shape of Vape'.
The FUYL 600 is the ultimate combination of convenience and delicious flavour. This innovative e-cigarette boasts a sleek diamond cut design, an impressive 2ml capacity that's compliant for UK markets—and it delivers up to 600 puffs of superior Dinner Lady award-winning e-liquids!
Key Features
Effortless vaping experience: No need for refilling or changing coils – just open the package and start vaping!
600 puffs per device: With this long-lasting vape, you can enjoy a seamless experience without the hassle of frequent replacements.
Pre-filled with UK made premium Dinner Lady e-liquid: Indulge in the exquisitely crafted flavours of Dinner Lady's award-winning e-liquids, renowned for their unmatched quality and taste.
Sleek and portable design: Its slim and compact size makes it perfect for on-the-go vaping, fitting comfortably into your pocket or purse.
Auto-draw activation: Simply inhale and experience the satisfying hits without pressing any buttons or adjusting settings.
Ideal for new and experienced vapers: A fuss-free solution for new vapers transitioning from traditional cigarettes and an easy, flavourful option for experienced vapers who want a convenient vape.
Available Flavours
Indulge in the delightful range of flavours that Dinner Lady e-liquids have to offer. The FUYL 600 disposable vape comes pre-filled with a variety of 14 tantalizing 20mg e-liquid flavours:
Apple Peach: Juicy and sweet peaches blended with the crisp and refreshing taste of apples.
Blood Orange Pineapple: Pineapples are perfectly paired with blood oranges, creating a delicious fruit flavour.
Blueberry Ice: Ripened and sweetened blueberries, served with an added kick of ice.
Bubblegum Ice: A new take on the traditional flavour of bubblegum, with an added icy coolness.
Cherry Cotton: The juicy and tart taste of cherries is blended with sweet cotton candy.
Kiwi Passion Guava: This sweet and tangy aroma is a delicious blend of juicy kiwi, passion fruit, and guava.
Lemon Tart: Combining the sweet notes of meringue with a butter biscuit crust.
Pineapple Peach Mango: Sweet peaches and mangoes blended with the tartness of fresh pineapple.
Raspberry Cola: A sweet and tart raspberry taste perfectly blended with the classic taste of cola.
Spearmint Menthol: An incredible fusion of spearmint, eucalyptus and menthol.
Strawberry Dragon Fruit: The taste of ripe strawberries perfectly blended with the exotic taste of dragon fruit.
Vanilla Tobacco: A creamy vanilla and tobacco blend. Rich and lightly sweetened.
Watermelon Ice: A sweet trio of cantaloupe, fresh honeydew and crisp watermelon.
Pink Lemonade: A refreshing blend of zesty lemon and sweet raspberry. A combination of sour and sweet.
FUYL Disposable Vape Pricing Options

Choose the option that suits your vaping needs the best:

Single Buy: Get a single FUYL disposable vape and immerse yourself in a world of flavour for only £5.99.

Multi-Buy Saving: Enjoy a selection of tastes with our 3-pack FUYL disposable vapes for just £15. You're saving 16%, making it a deal you can't resist!

Take advantage of our exclusive offer and experience a top-quality vape at an unbeatable price. Start your FUYL adventure today!