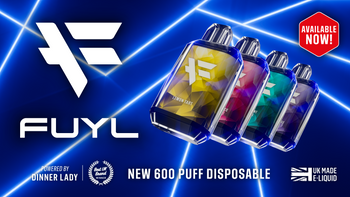 FUYL: Dinner Lady's Newest Disposable Innovation
Dinner Lady's latest innovation has arrived, and it's called FUYL (pronounced few-ul).
This is a brand that's tailored to bringing in something fresh, unique and world-class to cut through the noise of the current vaping market.
The Story Behind FUYL
The idea of FUYL started with the New Product Development team at Dinner Lady.
After conducting extensive research, they found that the market needed something entirely different, and that's how FUYL began to take shape.
FUYL is distinctive and ambitious in both name and form, created with the aim to create something new but timeless, mature but with an edge, and stylish yet functional.
The Journey Towards Creating FUYL
The creation of FUYL took thousands of hours of research and development to bring the perfect product to the market.
Dinner Lady invested in delivering premium quality from the development of the devices to the blending of the e-liquid inside.
The end result is a brand that's driven by core values that ensure we deliver the highest standards of flavour that vapers expect.
FUYL's Unique Selling Points
FUYL offers a range of unique selling points, including every component built into the device being specifically chosen to deliver the best possible vape experience.
FUYL is powered by Dinner Lady, which means that every flavour in the FUYL series has been carefully crafted to optimise the flavour profiles within the devices.
We've won numerous awards for our e-liquid brand, including Best Brand, Industry Leader and Hall of Fame.
Addressing Customer Pain Points
We put our consumers at the heart of everything we do. That's why we acknowledged the 3 main issues consumers currently have with products: Convenience, quality, and reliability.
For example, we partner with distributors around the globe to ensure that every consumer can get their hands on our products.
Similarly, Dinner Lady is renowned for producing premium e-liquids (as evidenced by our awards).
We take quality seriously and have created an extensive quality assessment process to ensure that our products meet and exceed our customers' expectations.
The Benefits of FUYL
FUYL offers something new to the market, with a brand new device form factor with a diamond-cut finish that's both beautiful and compact.
The resulting product is a range of sophisticated, premium flavours that are rich and aromatic, using only the finest ingredients blended to create a smooth nicotine delivery.
This is the perfect product for those looking for a refined vaping experience.
Revolutionising the Vaping Market
The vaping market is currently highly competitive and it is challenging to stand out in such a crowded space.
However, FUYL aims to revolutionize the industry with its unique selling points, tailored to address the issues consumers face today- convenience, quality and reliability.
We believe that this product is the game-changer the market has been waiting for, and we can't wait for our customers to try it for themselves.
In conclusion, FUYL is a brand that's driven by core values of quality, convenience, and reliability.
We believe that this product will revolutionize the vaping industry and offer a refined vaping experience for those looking for something unique and premium.