DINNER LADY'S MUST-HAVE VAPES FOR SUMMER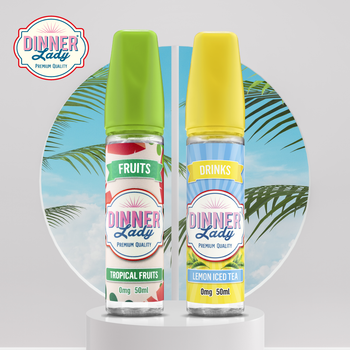 The temperature is rising and the heat is on. We might not be flying anywhere hot anytime soon, but with England set for an extended heatwave, there's no better time for vapers to try out some of the very best summery vape flavours.
With Dinner Lady's extensive selection of flavours, from Sweets to Fruits and Drinks to Desserts, there's plenty of fresh, summery vapes to choose from to keep you cool as a cucumber this summer.
 IN THE SHADE
Laid on the lounger, a glass of cola in hand – what could be a better reminder of summer? Dinner Lady's Cola Shades certainly gives that holiday classic a run for its money – pouring classic cola over lashings of ice, with a kick of lemon for an extra special kick. Don't forget, this flavour is also known as Cola Ice in the 10ml ranges.
FRUITY AND FRESH
Though it may not be the immediate flavour that comes to mind when we think of summer, Apple Sours offers a light and fruity alternative to the more obvious options. Sweet, crisp and tangy all at once, this popular flavour from Dinner Lady's Sweet range is refreshing in the summer heat. To enhance the cooling sensation, try out Apple Sours Ice.
COLD AS ICE
When it comes to the ultimate chilled vape, there's no rival for Mint Ice. As minty as they come, packed with flavour and finished with the freshness of koolada, Mint Ice offers a versatile e-liquid at strengths suited to vapers at various stages in their journey.
SUNSHINE SWEETENED
Combining the sweet, juicy delights of English summertime, Dinner Lady's range of Strawberry e-liquids are a splendid choice for any vaper. Picked perfectly ripe and splendidly sweet, Strawberry e-liquid needs no additional sweetener or toppings. Choose from plain yet traditional Strawberry, an ice cold Strawberry Ice (also known as Strawberry Bikini and Strawberry Lemonade) a delightful Strawberry Macaroon or a tropical Strawberry Coconut.
TOTALLY TROPICAL
New to Dinner Lady this year and exclusive to the Vape Pen format, Tropic Chill makes us dream of sun-drenched isles. Initially named Citrus Ice, Tropic Chill blends lemon, lime and orange with koolada for the ultimate holiday-inspired vape.
BACK TO BLACK
Black Orange Crush, as it's known in Shortfill and Concentrate formulations, or Blackcurrant Ice, when in its 10ml format, combines sweet with sharp for a tangy twist that puts us in a real summer jam. Blending sharp blackcurrant with softer orange notes, Black Orange Crush is a game-changer.
LUSCIOUS LEMON
Last but never least, Dinner Lady's Lemon Tart recreates a classic British dessert that's guaranteed to delight on a warm summer's evening stroll. Think fresh baked crush with biting lemon curd and a light as air meringue….  There's no better flavour than this summer evening treat.
What are you waiting for? With so many summer goodness to choose from, there's no reason not to bask in the sunshine with your favourite Dinner Lady summer flavour.