The Prettiest Sight to See is the Disposable That Will Be on Your Own Front Door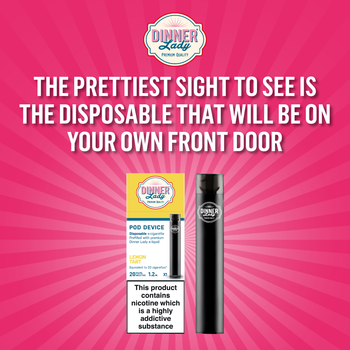 It's all over! Sign up to our newsletter for exclusive news and offers.
Have you tried Dinner Lady's disposable e-cigarette yet? Pre-charged and pre-filled with Dinner Lady's award-winning e-liquid, this e-cig is the ideal device for using on the go or helping you transition from smoking to vaping.
Containing a 1.2ml pre-filled e-liquid capacity and an impressive 300mAh battery, the disposable e-cigarette is equivalent to 20 cigarettes or 300 puffs. Equipped with a premium organic cotton, Dinner Lady's disposable e-cigarette delivers great taste. Each cigarette contains 20mg nicotine salts which enter the bloodstream in a similar way to tobacco to better satiate cravings.
Dinner Lady's vape pen has a premium and durable aluminium body that utilises a smooth and round elliptical shape for a great vaping experience. Stylish, pocket-sized and convenient to use, you're sure to find true love this Christmas in the form of the Dinner Lady disposable e-cig.
And what's more, you can get 3 disposables for just £12 today only. What are you waiting for?! Place your order and watch out for that postie.
NB: c
ustomers receive three disposable e-cigarettes for £12 – while stocks last. Discount automatically applied. Offer valid for 24 hours from 10am on 14/12/20. All participants must be 18 or older and age will be verified at checkout. Dinner Lady's 12 days of Christmas event runs from 4/12/20-16/12/10 inclusive.