Travelling with your e-cig: Dinner Lady's guide to vaping abroad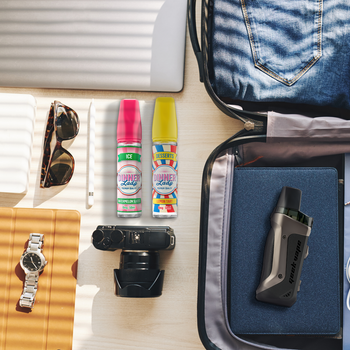 With the slowing of the spread and the easing of restrictions, many are planning their first post-COVID getaway. Before travelling outside of the UK, however, vapers should check the laws and regulations for vaping whilst flying and travelling to a different country. With fines and even prison time to contend with, knowing the vaping law is vital for a safe and carefree holiday.
STARTING YOUR TRAVELS: AT THE AIRPORT
Many airports in the United Kingdom are now vape-friendly and allow travellers to vape in designated smoking and vaping areas. Airports such as Birmingham, Bristol, Exeter, London Gatwick and Manchester have various designated smoking areas located around the airport to ensure a safe vaping experience. If flying from London Heathrow or Stanstead, however, vapers should take advantage of the few smoking areas located outside the terminal before passing through security.
If travelling with your vaping device, it's important that your device is kept in your hand luggage as lithium batteries are not permitted in hold luggage. Vapers are often restricted to how many batteries they can take with them on their trip, so bare this in mind when packing! If in doubt, it's always best to check with the airline you are flying with for further information.
When airlines allow the transportation of e-liquids, these can be stored in either hold or hand luggage. If packing your e-liquids in your hand luggage, they must adhere to the standard UK liquid restrictions that require all liquids and e-liquids to be contained within a 20x20cm transparent bag, to individually total no more than 100ml and collectively total less than 1 litre.
READY TO GO: ON-FLIGHT VAPING
For specific advice on vaping while flying abroad, vapers should check with the airline or flight operator for guidance and restrictions. As a rule, vaping is typically prohibited during flight. There are some exceptions to this rule, the most notable being Ryanair which allows vapers to purchase their own flight-safe, smokeless e-cigarette on board any of its flights for use while flying.
ARRIVING AT YOUR DESTINATION: TRAVELLING WITHIN THE EU
For the most part, countries within the European Union share similar vaping laws and legislation to the UK. Many European countries allow the sale and consumption of vape products, albeit with similar restrictions to smoking tobacco products. Vaping is often prohibited in public spaces and on public transport. The most notable exceptions to these rules are Budapest, Finland, Norway, Sweden and Switzerland, all of which allow the sale of nicotine-free vaping products only.
Vaping is believed to be banned completely in the Vatican City.
TRAVELLING OUTSIDE THE EU: UNITED STATES OF AMERICA AND THE AMERICAS
Attitudes towards vaping in the USA varies greatly depending on state and locality. Generally, vaping is favoured to smoking and most states approve of vaping when in private or non-enclosed, smoking-approved spaces. Whilst the states of Nebraska, Nevada, Rhode Island, and Tennessee currently have no regulations on indoor vaping, most states comply with the FDA regulations on vaping and have extending the indoor smoking ban to include e-cigarettes and other vaping devices.
Antigua, Barbuda, Argentina, Brazil, Colombia, Panama, Suriname, Uruguay and Venezuela currently allow the use of vaping but prohibit the sale of any vape products. In Chile, the use of vaping products is also illegal except for certain approved medical products that can be obtained when approved by a health official.
In Mexico and Nicaragua, vaping is illegal to use, sell and import. If travelling to Mexico and Nicaragua, all vaping products - including e-liquids, vape kits and even disposable e-cigarettes - may be confiscated at customs and subject to additional security measures.
TRAVELLING OUTSIDE THE EU: AFRICA
African countries such as Ethiopia, Mauritius, Seychelles and Uganda are believed to allow the use of vaping products but prohibit the sale and import of all vaping goods. Gambia is the exception to this consensus, where vaping is considered illegal to use as well as sell.
TRAVELLING OUTSIDE THE EU: ASIA AND THE MIDDLE EAST

Vaping is thought to be legal in Bhutan, Brunei, Japan, Malaysia, Nepal, Sri Lanka, Turkmenistan, and Turkey although vaping in public spaces or on public transport is not advised. Vaping in Singapore and Thailand is illegal, and possession of any vaping products is considered a crime that can be punishable with fines or prison time.
Vaping is illegal for manufacture, import and sale in India but accepted for personal consumption, however, there are several reports of vape products being seized unexpectedly from vapers at airports so exercise caution.
Vaping is thought to be legal in Egypt, Iran, Jordan, Kuwait, Lebanon, Oman and United Arab Emirates, although vaping in public spaces and on public transport is not advised. Vaping is banned for use, sale and import in Qatar.
TRAVELLING OUTSIDE THE EU: OCEANIA
The attitude towards vaping in New Zealand is very progressive and similar to UK laws. In October 2017, the Health Minister publicly endorsed the use of e-cigs as a means to quit smoking and 
contribute to New Zealand's aim to be "Smoke-free" by 2025.
The same is to be said for Papua New Guinea and the Soloman Islands, where there is no known existence or enforcement of vaping regulations. However, as laws quickly change, it is best to undertake further research before travelling to these locations.
Australia currently prohibits the use, sale and import of all vaping products containing nicotine. Nicotine-free vaping is widely accepted and e-cigarettes is allowed in some states.
_______________
TRAVELLING TOP TIPS
Buy e-liquids before you travel
If travelling to a country that allows the use of e-liquids, buy your e-liquids before you travel and take them with you. The UK has exceptional standards of testing and quality control that other countries do not always have.
Only pack what you need
Take one device and only as many batteries, coils and -liquids as you will need for the duration of your stay. More may raise suspicion levels, especially if travelling to a country that prohibits the sale of vaping products.
Disconnect batteries from your device and ensure your tank is empty
For peace of mind, disconnect the batteries and empty the tank to significantly reduce the risk of your device leaking or setting on fire while travelling.
Where vaping is allowed, for the most part so are e-cigarettes. Travelling with the Dinner Lady Vape Pen is simple, convenient and removes the hassle and mess of travelling with e-liquids that could leak and damage your luggage, whilst not having to pack spare batteries or coils provides even more convenience.
Such a lightweight and compact device that requires no maintenance - including no charging - is the ideal device to take on your travels.
_______________
FAQ
Can I take e-liquids on the plane?
Most British airlines allow e-liquids to be contained within hand or hold luggage when flying, although e-liquids may be prohibited in certain destinations. To be sure, always check the laws and regulations of your destination country to avoid wasting precious time at customs and the risk of having your favourite e-liquid flavours confiscated.
Remember to separate your e-liquids into transparent bags if storing them in your hand luggage as per the UK liquid regulations.
Can I smoke e-liquids on the plane?
Vaping is not allowed on most British airlines with the exception of Ryanair who sell their own smokeless e-cigarettes to be used in flight.
Can I take my e-cig on the plane?
No. E-cigarettes and vape hardware cannot be used on board an aeroplane. However, airlines like Ryanair sell their own, flight-safe smokeless e-cigarette that can be bought on board any of its flights for use while flying.
How much e-liquid can I take on the plane?
There are currently no restrictions on the amount of e-liquids that you can take on a plane unless you intend to store them in hand luggage. If travelling with just hand luggage, be sure to separate your e-liquids into a 20x20cm transparent bag. All e-liquids must be less than 100ml and must collectively total no more than one litre of liquid.
As many countries prohibit the sale of e-liquids, it is not advised to take more e-liquids than necessary for personal consumption.
Why is vaping not allowed on an airplane?
There are several reasons why vaping is not allowed mid-flight. Due to the restricted space on a plane, passengers are in extremely close vicinity. As some are highly sensitive – and occasionally even allergic – to Propylene Glycol, vaping can be incredibly dangerous to other passengers on the same flight.
Like traditional tobacco products, some e-liquids contain nicotine which is not recommended for children under the age of 18. Vaping in a confined space such as an aeroplane can thus be highly dangerous to young or asthmatic passengers.
WHERE ARE VAPING PRODUCTS BANNED AND RESTRICTED?
At the moment, vaping products are completely banned in countries such as Thailand (up to 10 years in prison and heavily monitored by police), India (most states in India with further discussions of nationwide bans), Philippines (up to four months in prison), Taiwan, Argentina, Brazil, Brunei (heavy fines), Cambodia, Cuba, Dominican Republic, Egypt, Hong Kong, Indonesia, Jordan, Lebanon, Oman, Qatar, Mexico, Panama, Seychelles, Singapore, Tunisia, Turkey, Uganda, Uruguay, Venezuela and Vietnam.
While allowing the use of vape, countries like Australia, Swede, Switzerland and Budapest have banned the sale of all vape products containing nicotine and so only nicotine-free vaping products should be consumed.
As laws change regularly, it is always best to check with a reliable source such as an embassy or travel bureau of the country you intend to visit.