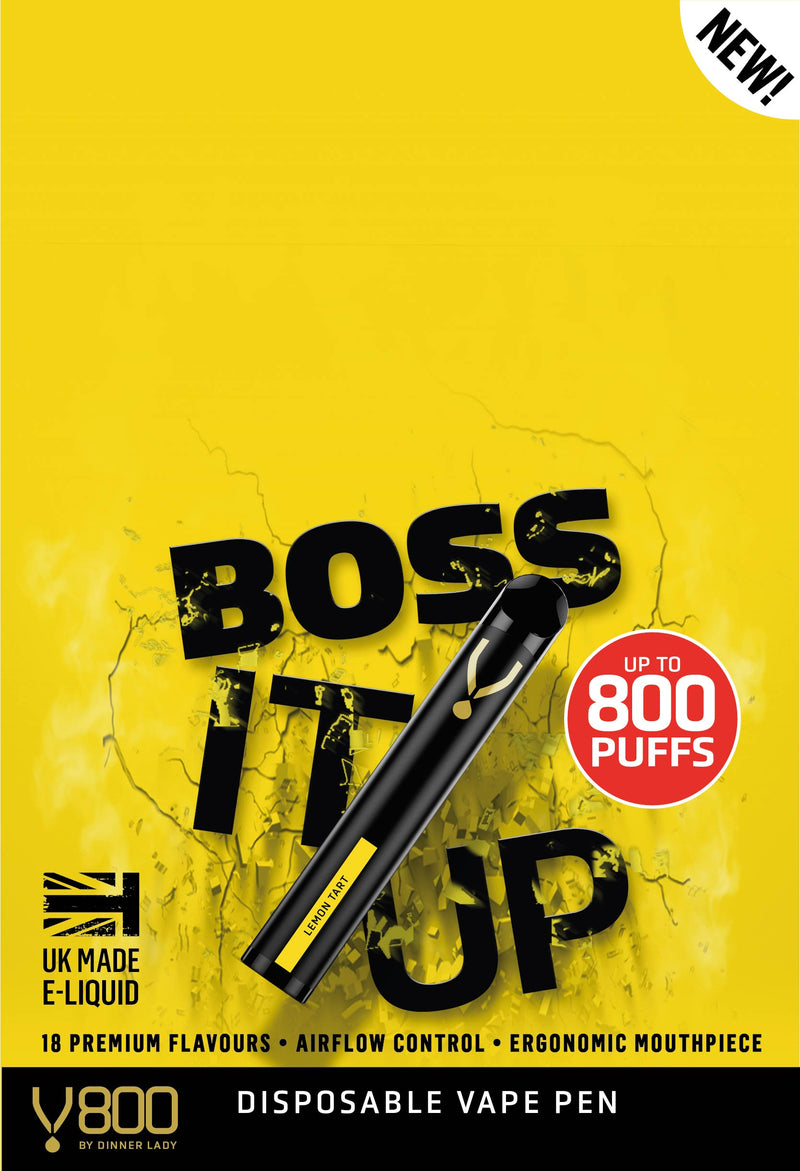 Collection:

Disposable V800 Vape Pen
Sorry, there are no products in this collection
DINNER LADY V800 DISPOSABLE E-CIG
Maximum flavour. Maximum power. Maximum convenience.
New to the vape market is a brand-new disposable e-cigarette: the V800 disposable Vape Pen.
Producing a whopping 800 puffs of premium Dinner Lady e-liquid, the V800 is best disposable e-cig on the vape market. With a 500mAh battery and an adjustable airflow, the V800 is built with both new and experienced vapers in mind.
Wave goodbye to disposable e-cigs that deplete in minutes. Say hello to a powerful disposable vape pen that lasts longer than a packet of cigarettes (and longer than any other disposable on the market).
Equipped with a long-lasting battery, the V800 Dinner Lady disposable e-cig is the best disposable e cig on the market. With no need to recharge or refill, simply vape until empty and repeat, the V800 is a convenient yet effective vaping device.
The second ever device to be prefilled with 2ml of premium Dinner Lady e-liquid, made in state-of-the-art manufacturing facilities in the UK, the V800 is available in a total of 18 flavours. With 8 classic favourites – including the award-winning Lemon Tart – and 10 brand new ones, the V800 is a flavoured disposable e-cig worth shouting about.
FLAVOURS – DINNER LADY CLASSICS
Eight of your favourite Dinner Lady flavours jam-packed in our V800 disposable flavoured e-cig. The range of classic Dinner Lady flavours includes two Fruits – Sun Tan Mango and Berry Blast, three Sweets – Apple Sours, Bubble Trouble and Cola Shades, two Ice – Banana Ice and Black Orange Crush, and the one and only award-winning Dessert flavour – Lemon Tart.
FLAVOURS – EXCLUSIVE TO THE V800
The V800 is available in ten never-seen-before flavours. Introducing three Tobacco flavours – Berry Tobacco, Original Tobacco and Vanilla Tobacco, five Fruits flavours – Blueberry Lemonade, Strawberry Lemonade, Watermelon Chill, Strawberry Watermelon and Grape Vine, and two Menthol flavours – Mint Menthol and Triple Menthol.
HOW LONG DOES A DISPOSABLE VAPE PEN LAST?
Equipped with a 500mAh battery capacity to deliver up to 800 puffs, Dinner Lady's V800 disposable Vape Pen is the longest lasting disposable e-cig on the market.
By law, vape hardware must have a maximum e-liquid capacity of 2ml. This means that a Vape Pen will last no longer than the average tank of e-liquid. However, everyone's vaping style is different. Some may take long puffs on their e-cigarette, while others may take short, sharp inhales.
So it really provides up to 800 puffs?
Yes! It really provides up to 800 puffs.
WHY CHOOSE DINNER LADY DISPOSABLES?
Disposable e-cigs with nicotine are a simple and easy way for adult smokers to transition to a less harmful alternative. Pre-filled with premium e-liquid containing 20mg of nicotine, disposable e-cigs replicate the mouth-to-lung sensation that is experienced when smoking traditional cigarettes.
Unlike other disposables on the market, Dinner Lady's pen-style disposable Vape Pens are a similar shape to a cigarette and so replicate the hand-to-mouth action that adult smokers become so accustomed to.
With a pre-charged battery, both the Dinner Lady disposable Vape Pen and V800 disposable e-cig are ready to vape straight from the box. With no need to recharge or refill, disposable e-cigs are one of the most convenient ways to make the switch.
DINNER LADY DISPOSABLE REVIEWS
★★★★★
"Dinner Lady are onto a winner with most of these flavours. They've done an absolutely top notch job of getting so much flavour out of such a small device. Going off the Mango Ice flavour, which I recently tried in their current prefilled pod device, the new vape pen was simply streets ahead in performance." – Planet of the Vapes
"Dinner Lady E Liquids are amazing and it's great to see that we can now get them in a disposable. This should help many more people to become smoke free. After someone tries some of these delicious flavours, no one will want to go back to smoking and having that horrible burnt taste again." – Jump on the Vape
"Fantastic value love these disposable vapes are so easy to use no mess no fuss just open the packet and off you go I will be using these from now on just wish they did different strengths for when I want to go down from this I have tried other disposable vapes these are by far the best IMO." – TrustPilot