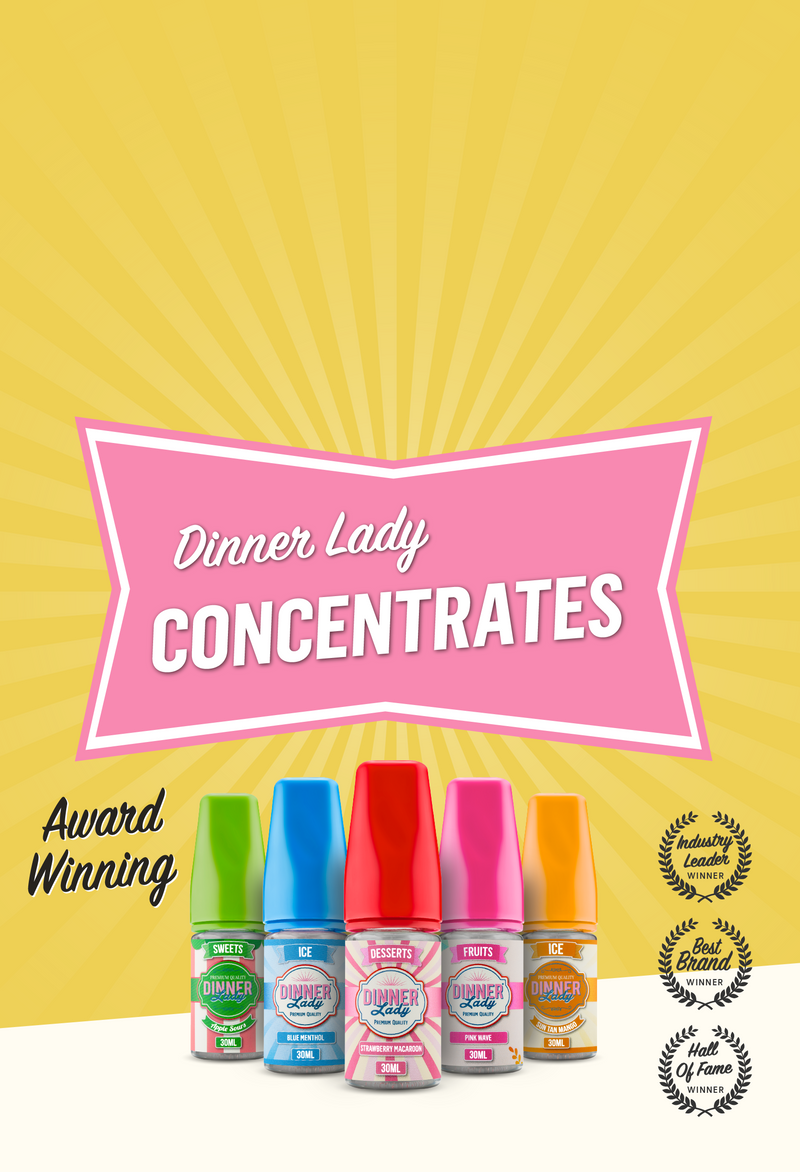 Collection:

Flavour Concentrates

Vape Juice Concentrates
Whilst being a UK and worldwide market leader in creating flavours that capture the imagination, Dinner Lady recognise that some vapers like to fine-tune their vapes. With this in mind, Dinner Lady created these rich and flavour-filled vape juices in highly concentrated formulations for vapers who like to make their own DIY combinations.

Made up of four components, traditional, pre-made e-liquids consist of four main ingredients: Propylene Glycol (PG), Vegetable Glycerin (VG), food-grade flavourings and nicotine. With DIY e-liquids, vapers mix these four ingredients themselves to create a personalised, truly unique E-Liquid.

Available in 30ml sizes, these concentrates are made from 100% PG, a thin and odourless liquid which is a great medium to store flavours and provide a premium taste to your DIY E-Liquid. By creating an e-liquid that is entirely PG-based, Dinner Lady offers highly concentrated flavours to be mixed accordingly by the user with their preferred amount of VG (for cloud-like vapour) and nicotine or CBD.

Due to the complexity involved in creating a personalised E-Liquid, Dinner Lady concentrates are made specially for experienced vapers who know their preferred vaping ratios. Dinner Lady recommends using these concentrates as a 20-25% mix ratio with VG. Users then have the option to add either a Nicotine or a CBD Boost shot to complete their customised vape juice.

The Dinner Lady Nicotine shot contains 18mg of freebase nicotine in 10ml of 100% VG liquid

There are 5 CBD Boost options, ranging from 10ml to 30ml bottles, each containing between 250mg and 1500mg of CBD Isolate. Please note that a 10ml CBD Boost bottle containing 500mg of CBD contains the same amount of CBD per 10ml (at a smaller volume), as 30ml 1500mg CBD Boost e-liquid bottle.

These concentrates are currently available across six award winning flavour ranges: Desserts (featuring the award-winning Lemon Tart), Fruits, Sweets, Tobacco, Menthol and Ice.