Dinner Lady's E-Liquid Buying Guide For You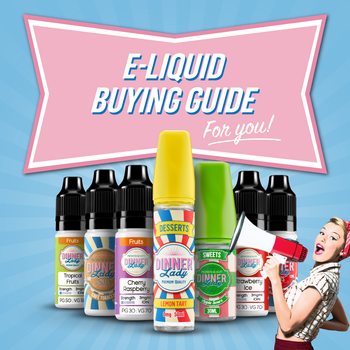 Shopping for E-Liquid or Vape juice? So, you're new to vaping and looking for the best e-liquid for a smooth experience. There're lots of flavours and so many e-liquid brands claiming to be the best. We understand that it can be a little daunting and overwhelming, so we've created this e-liquid buying guide to help you choose the best e-liquid.
There is so much to consider. Not just the e-liquid for flavour and nicotine strength, but the coil and your vaping device to heat the liquid and the PG/VG ratio, everything is important for a memorable vaping journey. 
E-Liquid Key Terms Explained
MTL (Mouth-To-Lung): When you inhale juice into the mouth and hold vapour briefly before inhaling into your lungs.
DTL (Direct-To-Lung): When you inhale vapour directly into the lungs. 
Nicotine Salts: This type of e-liquid uses the salts found in tobacco producing a smooth throat hit. E-liquid without nicotine salts is called freebase e-liquid.
Hybrid e-liquids: This has both freebase e-liquid and nicotine salts.
PG: Propylene glycol is used in e-liquid, is thinner than VG and creates a deep throat hit.
VG: Vegetable glycerine is thicker than PG, slightly sweeter & smoother on the throat and creates larger clouds of vapour.
Short-fill: A large bottle of e-liquid without nicotine as it has no space at the top of the bottle for a nicotine shot.
Nicotine shot: A small bottle of usually flavourless e-liquid to add a short fill.
What is in E Liquids?
E-Liquid/Vape Juice is a combination of mainly three or four ingredients. Cigarettes are packed with 250+ harmful ingredients including hydrogen cyanide, carbon monoxide, and ammonia, whereas e-liquid/Vape juice has the following 4:
Vegetable Glycerine

Propylene Glycol

Food grade flavouring

Nicotine (optional)
​How to Choose Your E-Liquid/ vape juice
Choosing the right nicotine strength
Knowing what nicotine strength to choose when starting out vaping can seem like a challenge to many, however you've come to the right place to make it a lot easier when choosing which nicotine strength is perfect for you.
0mg nicotine –

Ideal for social smokers, the nicotine-free option allows you to continue blowing vapour rings or want to continue feeling the experience of smoking without taking in any nicotine. Try out Dinner Lady's 0mg nicotine shortfills!
3mg nicotine –

The lowest level nicotine you can get in a liquid. It's often when people choose this level of nicotine, they are in the final step of quitting smoking as they have reduced their intake to almost nothing. This is also recommended for light smokers who tend to have very few cigarettes a day. We recommend trying Dinner Lady's 3mg 50:50 or 3mg 30:70 E-liquids for the maximum flavour!
6mg nicotine –

Low-level nicotine strength that will provide you with the nicotine buzz you are craving. This is ideal for those who on average smoke around 10 cigarettes per day. We recommend trying Dinner Lady's 6mg 50:50 or 6mg 30:70 E-liquids for the maximum flavour!
10mg/12mg nicotine –

This level of nicotine strength is ideal for those who are just switching to vaping as it will give you enough nicotine to keep the cravings away. This strength is made for the average smoker who tends to smoke up to a pack a day. We recommend Dinner Lady's 10mg/12mg 50:50 E-Liquids or Nic Salts!
18mg/20mg nicotine –

This high level of nicotine is for people who are heavy smokers which tends to be on average over a pack a day. It's important to note that the strength of the liquid you use will dictate what kind of device you should use. We recommend trying Dinner Lady's 10mg/12mg 50:50 E-Liquids, Nic Salts or our popular 20mg Disposable Vape Pens!
If you're trying to switch to vaping, you should start with an e-liquid which helps you with cravings in starting and stopping smoking when you can.
If you find that vaping is not working for you, start with higher nicotine strength and drop down the strengths over time.
How to get a strong throat hit from your e-liquid?
You've been smoking cigarettes for a long time and when you try to switch to vaping, you miss that harshness on the back of your throat. If you want to experience that throat hit, you need an e-liquid with higher propylene glycol.
You need to look at the VG: PG ratio. A VG: PG ratio of 50:50 gives a satisfying throat hit for most smokers.
If you're using a high PG e-liquid, you should look for a vaping device with a long drag designed for mouth to lung vaping. Take a look at our range of pen style vape kits - suitable for MTL vaping.
E-liquids for a smooth throat hit
If you're looking for a soft throat hit of an e-liquid, you should use nicotine salt or use a higher VG e-liquid.
Nicotine salts are a relatively new innovation and was made as nicotine hits with very high strength e-liquids was too harsh. It's made from the nicotine found in tobacco leaves and creates a smoother throat hit.
Nicotine salts are very popular with new vapers and smokers who are switching from light/mild cigarettes and tobacco.
Another way to get a smoother throat hit is to use a higher VG vape juice. Mostly we use high VG vaping juice with more advanced vaping devices.
E-liquids for a cigarette-style vape
If you want to switch to vaping and still want the feeling of a cigarette, there are two ways.
The first is to use an e-liquid with higher PG, typically with a VG: PG ratio of 50:50, which gives a similar feeling and throat hit to a cigarette. These e-liquids are best used with pod systems and low-powered vaping devices.
Many vapers like pod systems with a combination of nicotine salts, and regular e-liquid to enjoy a very realistic smoking experience.
Liquids for open pod systems and starter kits
Starter kits and pod systems are usually designed for higher PG rations (e.g. VG: PG 50:50). You can verify this by checking the resistance of your coil. If the resistance of your coil is higher than 1 ohm, you are usually best off using a high PG e-liquid.
E-Liquids for cloud chasing
If you love to blow larger clouds of vapour, then you are best off with short fills. Short fills are larger units of vape juice with a space at the top of the bottle to add a nicotine shot.
Short fills usually have a higher VG ratio (e.g. VG: PG 70:30). The VG is responsible for the clouds and must be used with more advanced kits for larger clouds. Usually, these vaping devices come with a high-power battery and the tank is built to handle the high power and a thicker e-liquid.
To handle the thicker e-liquids and produce larger clouds, you should use low resistance coils (typically well below 1 ohm) and with wider holes in the coil to help absorb the e-liquid.
Best E-Liquid Buying Guide Summary
Thank you for reading Dinner Lady's e-liquid buying guide. Selecting the perfect e-liquid which suits your needs takes time and research. Now you know what nicotine strength and VG/PG ratio you want to start your vaping journey.
Visit our online store to browse the best collections of e-liquids and find the ones that will suit you.
And once again visit our store for the right equipment and e-liquids to start your vaping journey right.
Happy Vaping From Dinner Lady!