DINNER LADY E-LIQUIDS ACCEPTED FOR PMTA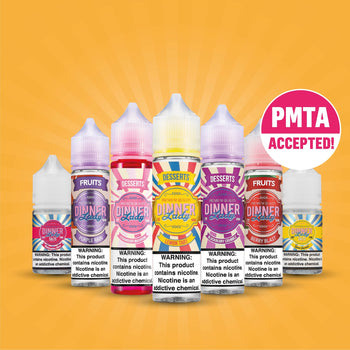 Vape Dinner Lady is delighted to announce its USA e-liquids' range has been accepted for the Premarket Tobacco Product Application (PMTA).
The UK-based premium e-liquid brand submitted seven flavours, in five strengths, to the FDA in America to seek approval for sale. The application has now been formally accepted by the FDA, and will progress to a preliminary scientific review.
Dinner Lady's American e-liquids range includes the original, international award-winning Lemon Tart e-liquid, alongside some of our best-selling flavours from the Desserts, Sweets and Fruits ranges.
All available in 0%, 0.3% and 0.6% freebase nicotine, and in 3% and 5% nicotine salt, the PMTA-accepted e-liquid flavours are: Lemon Tart, Berry Blast, Blackberry Crumble, Lemon Sherbets, Purple Rain, Strawberry Macaroon and Watermelon Slices.
 Vice President Sales (North America) for Vape Dinner Lady, Mohsin Desai said: "The Dinner Lady PMTA range was specially selected for the American market, in line with our commitment to creating products which provide adult smokers with a less harmful alternative to combustible cigarette smoking.
"The products are formulated and manufactured at our state-of-the-art headquarters, to the stringent standards of the UK vape industry which are respected the world over, and we have faith in their position as market-leading premium vape products."
The PMTA application took hundreds of hours of research to prepare, with thousands of pages of data supplied to the FDA for analysis. As part of the application, manufacturers must prove their products are appropriate for the protection of the public health, and are not likely to attract non-smokers or those aged under 21.
Chief marketing officer John Taylor added: "We are delighted to have been accepted for PMTA with this range of premium e-liquids and we look forward to working with the FDA throughout the review process as required.
"Dinner Lady's products have long been popular with consumers looking for an alternative to combustible tobacco products, and to support their move to a less harmful lifestyle – as acknowledged by Public Health England."
Vape Dinner Lady launched in 2016, and now distributes in 96 countries. Since launching, Dinner Lady has won more than 45 international awards.
To find out more about our USA range of products, email sales@vapedinnerlady.com or fill in the form below and one of our team will be in touch soon.