DINNER LADY JOINS SCHEME TO HELP KICKSTART CAREERS FOR YOUNG PEOPLE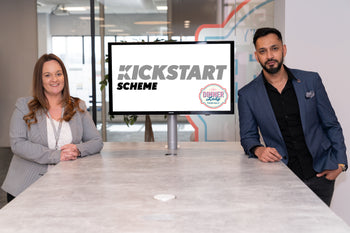 Lancashire vape company Dinner Lady is preparing to welcome 15 new staff as part of the Government's national youth employment scheme Kickstart. 
The Kickstart scheme has been established to support 16 to 24-year-olds who are claiming Universal Credit, and are at risk of long-term unemployment, in reaction to the impact of COVID-19 on young people's future prospects.
Blackburn-based premium e-liquid brand Dinner Lady will soon welcome the first of its 15 Kickstart employees into their state-of-the-art headquarters at Shadsworth Industrial Estate.
The 16 to 24-year-olds will work in departments covering sales, marketing, compliance, customer service and e-commerce during the six-month scheme, and Dinner Lady hopes to be able to offer long-term training and employment opportunities to some of the candidates.
"PART OF THE FAMILY"
Head of HR and General Manager Gemma Lee said: "To be accepted onto the Kickstart scheme is an honour for our brand. We're really excited to welcome some new talents into the business, to support their future employability, to develop new skills and give vital, paid work experience at this time.
"Like many companies, we have faced challenges during the past 12 months, and we have seen friends and loved ones struggle due to the impact COVID-19 has had on all our lives in so many ways.
"While we can't guarantee employment at the end of the scheme, for the right candidates there's no question we will help them stay part of the Dinner Lady family, whether as apprentices or with a permanent contract, and to forge a successful career."
Since the start of the COVID-19 pandemic, more than 1,000 additional 16 to 24-year-olds in Blackburn have become unemployed and are claiming benefits, and the redundancy rate among this age group is higher than any other.
GLOBAL OPERATIONS
Dinner Lady was launched in 2016, as part of the multimillion-pound GM Group, which now employs more than 200 people in the region, selling products into more than 96 countries worldwide.
GM Group's chief executive officer Mohammed Patel has previously spoken of his personal experiences of growing up in Little Harwood, Blackburn, and the challenges he faced during his teenage years – ultimately finding success in developing GM Group and the Dinner Lady brand.
"As a teenager, there weren't many doors open to me, and I understand how easy it can be to become disenfranchised as a young person, to not see what opportunities may be out there," Mr Patel said. "I sincerely hope we can find a new generation of talent and I look forward to welcoming local young people into the Dinner Lady Family, to inspire the next generation of Blackburn entrepreneurs."
The £2bn Kickstart scheme was announced by the Government last year to support some of those hardest hit by the impact the coronavirus crisis has had on youth unemployment. It aims to give 16 to 24-year-olds access to paid work experience and to enhance their future prospects.
ENDS
Picture: Vape Dinner Lady general manager Gemma Lee and chief executive officer Mohammed Patel launch the company's Kickstart scheme, to recruit unemployed young people.
For more information, contact Vape Dinner Lady's PR Executive Anna Cryer on 01254 972033 or by emailing anna.cryer@vapedinnerlady.com
PRESS LINKS