SOUS LES PROJECTEURS : The Vapery, Centurion, Afrique du Sud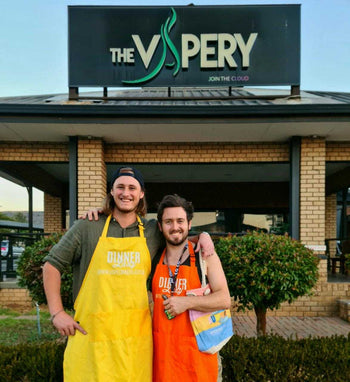 Pour notre dernière édition de la rubrique Sous Les Projecteurs, nous avons discuté avec Dirk de chez The Vapery du service de « classe mondiale » qu'ils reçoivent de Dinner Lady.
The Vapery, à Centurion en Afrique du Sud, lancé en 2015, ouvrait sa première boutique un an plus tard en 2016, l'année du lancement de Dinner Lady. Ils ont depuis ouvert un second magasin. En plus de vendre des produits de vapotage directement, The Vapery offre également les e-liquides Dinner Lady à la distribution à travers l'Afrique du Sud depuis 2017.
QUELS PRODUITS DINNER LADY STOCKEZ-VOUS ET QUELS SONT VOS BEST-SELLERS / VOS FAVORIS ?
Nous stockons la plupart des saveurs, hormis la gamme Blend, pour l'instant. Les meilleures ventes sont le Lemon Tart, Strawberry Bikini, Sun Tan Mango et Strawberry Macaroon.
POURQUOI AVEZ-VOUS CHOISI UN PARTENARIAT AVEC DINNER LADY ?
Une marque géniale, aux e-liquides de qualité, un service client superbe, et en général une équipe géniale avec laquelle faire affaire.
QU'EST-CE QUI REND LA COLLABORATION AVEC DINNER LADY SPÉCIALE ?
Les saveurs produites sont de classe mondiale et le service rendu est quelque chose de spécial à lui-seul.
RECOMMENDERIEZ-VOUS DINNER LADY A D'AUTRES ET POURQUOI ?
Oui, grâce au service client dont nous bénéficions et au succès des produits en magasin.
QUI EST VOTRE ACCOUNT MANAGER / BUSINESS DEVELOPMENT MANAGER ET EN QUOI AMÉLIORE-T-IL/ELLE VOTRE EXPÉRIENCE DE DINNER LADY ?
Kenny Monro est notre contact chez Dinner Lady, il est nouveau dans l'équipe mais a déjà une relation géniale avec nous. Notre gérant Dirk Kristen et notre manager Luke Denton sont toujours à l'affut des opportunités marketing ou promotionnelles avec la marque Dinner Lady, travailler de près avec Kenny permet de réaliser cela. Nous croyons au produit, indéfiniment !
Pour discuter avec notre équipe de vente des façons de stocker les « saveurs de classe mondiale » Dinner Lady comme l'équipe de The Vapery, contactez-nous à sales@vapedinnerlady.com.
Lisez plus de Sous Les Projecteurs ici.