5 REASONS YOU'LL LOVE DINNER LADY'S DISPOSABLE VAPE PEN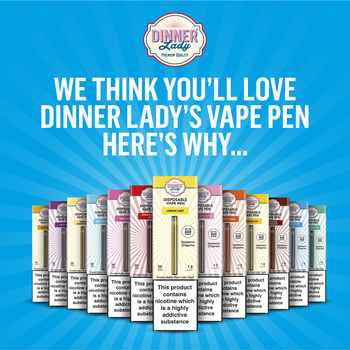 First introduced to the market in 2003, e-cigarettes have changed considerably in size and style.
First launched as a cig-a-like device in the design of a cigarette, the original e-cig device was limited in both design and customisation. Now available in the form of pens, pods and mods, there is an e-cigarette for every preference and vaping style. Compatible with thousands of e-liquid flavours and a range of vaping styles, e-cigarettes have come a long way in the last 18+ years.
Although providing more flexibility and choice for advanced vapers, more advanced vape kits can be too complex and complicated for those new to vaping, and for the average vaper. After all, many of us prefer to test the waters before committing our time and hard-earnt money to something we are not 100% sure on. 
Combining the convenience of pen-style devices with the flavourful advantage of advanced vape kits, Dinner Lady's disposable Vape Pen provides a great entry into the world of vape for adult smokers looking for a less harmful alternative to tobacco products. With a portable design and excellent flavour range, Dinner Lady's e-cig is the best e-cig for new and experienced vapers alike. 
HOW DO E-CIGARETTES WORK?
Though there are many different types of e-cigarette available on today's vape market, disposable pens share the same purpose: to provide a less harmful alternative to tobacco products.
An e-cig is an electronic device designed to heat flavoured e-cig liquid into vapour. Unlike a cigarette, e-cigs are free from tobacco.
5 REASONS YOU'LL LOVE DINNER LADY'S DISPOSABLE VAPE PEN
Dinner Lady's Vape Pen is undoubtedly one of the best e-cigarettes on the vape market today.
1. PORTABLE DESIGN
The Vape Pen is slim and compact, weighing just 16.7g when full and measuring only 10cm in length. Forget chunky devices with complicated buttons and operating systems, the Vape Pen is draw-operated for use of use.
2. FLAVOUR RANGE
Available in 13 premium Dinner Lady e-cigarette flavours across six flavour ranges, the e-cig offers some of the very best flavours on the vape market. Prefilled with 50:50 Nic Salt e-liquid, the disposable provides a mouth to lung (MTL) vape that most closely resembles the throat hit sensation you experience when smoking a traditional cigarette.
3. 400 PUFFS – NO FLAVOUR FADE
With a 350mAh, grade A Li-Ion battery, 5ml e-liquid capacity and improved 1.6ohm coil with bespoke mixed cotton wick, Dinner Lady's e-cig promises up to 40 puffs. That's right, with Dinner Lady's Vape Pen, you will receive the vape equivalent of up to 20 cigarettes for just £3.99 per e-cigarette.
4. CONVENIENCE
No refilling, no recharging and absolutely no coil changing, the Vape Pen is ideal e-cig for beginners who require a simple yet effective vape device. No fuss, no leaks, just 400 puffs of your favourite premium e-cig juice.
When finished, simply dispose, and start a new pen.
5. STYLE
There's no denying, the Vape Pen has style. Made from premium, food-grade stainless steel, Dinner Lady's disposable e-cig has a metallic finish that looks great.
DINNER LADY VAPE PEN: THE BEST E-CIG?
If you want an e-cigarette that combines the ease of a pen with the flavour advantages of a box mod, look no further than Dinner Lady's Vape Pen. Available in 13 premium e-cigarette flavours, promising up to 400 puffs with no flavour fade and designed to be conveniently slim and compact, Dinner Lady's disposable e-cigarette promises no fuss, no leaks, just great flavour at a great price.