What do I need to make my own vape juice?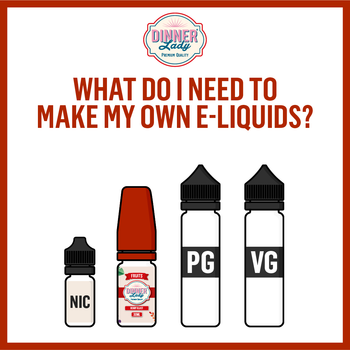 Have you found your favourite Dinner Lady flavour? But found yourself wishing you could alter the consistency? Perhaps you'd add more VG for excellent vapour production?
If you've thought about mixing your own e-liquid supplies but are not sure how to make your own e-liquid at home, this guide is for you. Read on to find out what you need to make unique e-liquid flavours.
COMPONENT ONE: FLAVOUR CONCENTRATES
Determining what your e-liquid tastes like, flavour concentrates are the most important component in DIY e-liquids.
Concentrates consist entirely of Propylene Glycol (PG) and food-grade flavourings. Alone, PG is a great flavour carrier that can be mixed with nicotine and VG diluent to create all vaping styles and taste preferences.
There are plenty of flavours to choose from, and each Concentrate can be combined with others to concoct unique flavour profiles.
COMPONENT TWO: NICOTINE
Like Shortfills, Concentrates are nicotine-free and nicotine is an optional addition to DIY e-liquids. You can choose to mix your DIY formulations with nicotine to create an e-liquid with a strength that is best suited to you, or completely omit nicotine from your liquid.
Nicotine Shots can be added to flavour concentrates to create an e-liquid with a nicotine strength of your choice. Adding a 5ml, 18mg Nic Shot to a 30ml Concentrate will create an e-liquid with a 3mg nicotine strength. Adding a 10ml, 18mg Nic Shot to a 30ml bottle will create an e-liquid with 6mg nicotine.
COMPONENT THREE: VG DILUENT
Vegetable Glycerin (VG) is of a thicker consistency than PG and creates large clouds of vapour. Depending on how much vapour you like, VG can be mixed with concentrates for a cloud-chasing experience.
ADDITIONAL COMPONENTS: BOTTLES, LABELS AND MORE
Spare, empty bottles are needed to add your final e-liquid mixture to. Labels are also handy to note down each component, making sure that you can replicate the concoction if there's something you particularly like.
Vapers should be careful when handling and storing any DIY e-liquid component, taking care to keep out of reach of children and minimise skin contact.
MAKING YOUR OWN E-LIQUIDS AT HOME
DIY vape juice can be made with as little as three components: Concentrates, VG diluent and, if required, Nicotine Shots. Bottles and labels are handy to store your components and finished e-liquids clearly.
For more DIY e liquid tips and tricks, read Dinner Lady's ultimate guide to concentrates.