Disposable Vape Pen Explained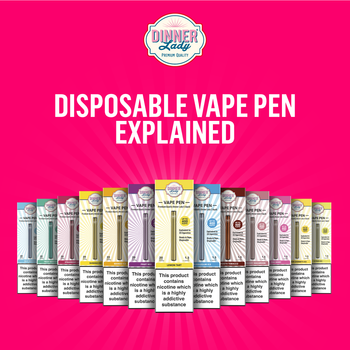 WHAT IS A DISPOSABLE VAPE PEN?
The disposable Vape Pen is exactly what it says on the tin – a pre-filled, pen-style device that is discarded when empty. As well as their convenience and ease of use, Vape Pens allow customers to sample vaping as an alternative to smoking without committing to buying a vape kit, e-liquids and coils – which requires more investment and more knowledge than a disposable e-cig vape device. 
Dinner Lady's disposable Vape Pen is the only e-cigarette to be pre-filled with premium Dinner Lady e-liquids and is available in eight of Dinner Lady's most popular flavours along with five brand new ones. Each e-liquid has been reformulated to best suit the device components so that all 13 flavours are the best e-cig flavours on the market.
Unlike petrol station cig-a-likes of the past – which used very early technology and were designed to look like a cigarette while delivering little of the same experience – the modern disposable e-cig is designed to replicate the feel, sensation and taste of smoking. Vape products are also considered to be 95% less harmful than tobacco products by Public Health England.
HOW DOES A DISPOSABLE E-CIG WORK?
A disposable Vape Pen works by using an e-cig battery to power a coil which vaporises an e-liquid, creating a flavoured vapor – containing nicotine – which is inhaled in a similar way to a cigarette. Disposable e-cigarettes are not refillable nor rechargeable and should simply be disposed of when used.
How the Dinner Lady disposable vape pen works

HOW DOES A DISPOSABLE VAPE PEN REPLACE CIGARETTES?
A disposable Vape Pen replaces cigarettes in two key ways – it offers a replacement source of nicotine and requires the use of hands – targeting the two most commons habitual elements of traditional tobacco smoking. The Dinner Lady disposable e-cig uses Nicotine Salts e-liquid with a 20mg nicotine strength. This allows it to match the way nicotine from cigarettes enters the blood stream more accurately than freebase nicotine.
The packaging of the Dinner Lady disposable is similar to a packet of cigarettes in order to replicate the muscle memory of opening and to provide a similar experience to smoking. The outer packaging is sealed with cellophane and the disposable device is sealed in a foil sleeve within the box which is torn open to reveal the device inside. 
HOW LONG DOES A DISPOSABLE VAPE PEN LAST?
How long a disposable will last is highly dependent on the product and each users vaping habits. Heavier smokers tend to use a disposable device more quickly than light smokers.
As the Vape Pen complies to TPD legislation which restricts the size of an e-liquid containing device to 1.5ml, there is a legal limit as to how long a single-use device can last. Battery size and quality is an additional factor which will affect the length of time disposables last.
Equipped with a powerful 350mAh battery that is unrivalled by other Vape Pens, Dinner Lady's disposable e-cig is equivalent to a packet of 20 cigarettes, the disposable Vape Pen provides up to 400 puffs.
ARE DISPOSABLE E-CIGS SAFE?
Dinner Lady's disposable Vape Pen meets all required UK safety legislation from a physical product point of view, although the safety of vaping itself is something that is not universally agreed on. The NHS and PHE, however, each share the view that vaping is 95% less harmful than smoking tobacco products.
WHICH DISPOSABLE E-CIGARETTE IS THE BEST?
The Dinner Lady disposable e-cigarette is highly rated by independent vape review websites such as ecigclick.co.uk and planetofthevapes.co.uk, which is why we make the claim that the quality of our disposable is as good as they can get!
By reformulating all e-liquids to best suit the device type, vapers can rest assured that every flavour will be just as good – if not better – than you could ever imagine. What's more, there is no flavour fade meaning the last puff is guaranteed to be just as good as the first. 
WHAT FLAVOURS DO DISPOSABLE E-CIGS COME IN?
The Dinner Lady disposable is available in 13 flavours across the Desserts, Sweets, Fruits, Ice, Menthol and Tobacco flavour ranges to provide the maximum choice for customers.
Those preferring a closer experience to the taste associated with smoking should try our best-selling Smooth Tobacco Vape Pen which provides a twist on classic tobacco with sweet, wood undertones.
Including two Menthol flavours – each of which is formulated with the Menthol flavour ban in mind – the former menthol fans among you may like the refreshing and cooling inhale of Fresh Menthol or the sweet and fruity ice inhale of Blue Menthol.
With six Ice flavours – Strawberry Ice, Lemon Sherbets Ice, Citrus Ice, Bubblegum Ice, Banana Ice and Mango Ice – Ice e-liquid fans will not be disappointed.
Introducing a new fruit flavour, Fruit Mix, alongside classic Pink Berry, vapers can experience the sweet yet refreshing flavour combination of berries, grapes, currants and citrus fruits.
Also available in two Desserts flavours – the award-winning Lemon Tart and best-selling Strawberry Macaroon – vapers will be spoilt for choice.
Dinner Lady's range of disposable Vape Pens can be purchased here.
Dinner Lady disposable e cigarette flavours: (left to right) Banana Ice, Blue Menthol, Bubblegum Ice, Citrus Ice, Fresh Menthol, Fruit Mix, Lemon Sherbets Ice, Lemon Tart, Mango Ice, Pink Berry, Smooth Tobacco, Strawberry Ice and Strawberry Macaroon.
DO DISPOSABLE E-CIGARETTES CREATE LARGE CLOUDS OF SMOKE?
By design, the Dinner Lady disposable Vape Pen does not create a large cloud of vapor. This is to keep the usage of the device discreet and to closely replicate the sensation of smoking a traditional cigarette. Large clouds of vape are generally created by sub-ohm vape pens which require the usage of a large battery mod – or more recently a variable wattage pod mod and a special type of e-liquid called a 30:70. These devices and liquids heat at a higher wattage and create the large plumes of clouds you may see other vapers produce. 
While disposable e-cigarettes are often used by transition vapers who seek a discreet, simple and no-fuss experience, Dinner Lady's Vape Pen is highly rated by new and existing vapers alike for its superb flavour production and ease of use.
CAN A DISPOSABLE VAPE PEN CHARGE?
Disposable vapes cannot be charged as they are designed to be a completely closed system which is ready to vape, with no fuss, straight out of the box. This means the liquid cannot be replaced and the battery cannot be charged.
CAN  YOU REFILL A DISPOSABLE VAPE PEN?
Vape Pens are closed systems that cannot be re-filled. are discarded after use. This is to ensure that you have a controlled experience every time and are not required to change coils, replace liquids, or charge the device. For new vapers, this makes the disposables the most accessible and convenient devices.
WHY DO PEOPLE BUY DISPOSABLE VAPES?
There are many reasons that people demand disposable vape products. One of the most common in our research is that people want a comparable product to cigarettes but without the cigarette! This means a small and lightweight device with a discreet amount of vape and a comparable nicotine content. Customers also like the no fuss and ready to vape straight out of the box as a convenient on the go vape pen as well as acting as a low-cost starter kit for those unsure if vaping will work for them.
HOW MUCH ARE DISPOSABLE E-CIGARETTES?
Disposable e-cigarettes are available at a variety of price points. Often, less effective pens use cheap e liquids and poor-quality hardware which, while costing less, ultimately provide poor value for money. The Dinner Lady disposable is just £4.99 for a single device – that's just half the price of a packet of cigarettes!
Encased in a premium, lightweight aluminium shell and containing premium, UK-manufactured e-liquid, Dinner Lady's disposable e-cig provides a cost-effective starting point for those looking to quit smoking.
Dinner Lady disposable Vape Pens are also available in value 3 packs of the same flavour as well as an exclusive Mix & Match 3 flavours for just £12. This is equivalent to just £4 per disposable and represents what we feel is the best value for money possible for a premium disposable e-cig.