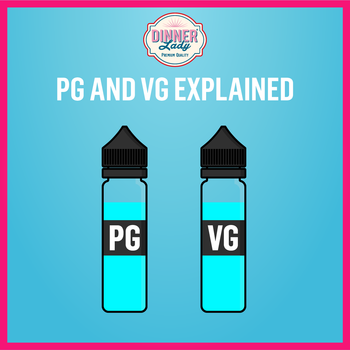 Winner of over 46 awards, including Best Desserts flavour five years running, Dinner Lady e-liquids are loved by vapers everywhere. Dinner Lady e-liquids consist of four key ingredients: Propylene Glycol (PG), Vegetable Glycerin (VG), food-grade flavourings and nicotine.
While food-grade flavourings and nicotine are commonly known ingredients, those new to vaping may be less familiar with PG and VG.
WHAT'S THE DIFFERENCE BETWEEN PG AND VG E-LIQUID?
Propylene Glycol (PG)
Propylene Glycol, commonly referred to in the vaping industry as PG, is used as a preservative in food products. PG is an odourless liquid that is thin in consistency and carries flavours well. E-liquids with high ratios of PGs are responsible for a more noticeable throat hit that closely resembles the sensation of smoking a cigarette.
Vegetable Glycerin (VG)
Vegetable Glycerin is also colourless but has a thicker consistency than PG which helps to produce a dense vapour that is popular with cloud chasers and sub ohm vapers.
ARE PG AND VG SAFE?
Both PG and VG are approved as sweeteners by the FSA and WHO. They are used in many different products, from pharmaceuticals to cosmetics, toothpaste to hand cream, beverages to asthma inhalers.
WHAT IS THE BEST PG:VG RATIO FOR MY TANK?
The best ratio for you depends on factors such as e-liquid formulation, coil ohm and vaping preference. The below table provides a rough guide on choosing the best wattage for your e-liquid.
Typically, the following PG:VG ratios should be used with the following wattage:
| | | |
| --- | --- | --- |
| E-Liquid Formulation | Wattage Range | Vaping Type |
|  50:50s | Low wattage (typically 15-25w) | Mouth to lung |
| Nic Salts  | Low wattage (typically less than 15w) | Mouth to lung |
| 30:70s | Medium wattage (typically between 30 and 45w) | Direct to lung |
| Shortfills | High wattage (typically between 30 and 55w) | Direct to lung |

Please note: the table is intended to use as a rough guide. Always take note of the manufacturers instructions when vaping.
WHAT RATIO SHOULD I START WITH?
Those new to vaping often start with 50:50s and Nic Salts e-liquids. Both have a 50:50 PG:VG ratio which create a tight throat hit that is most like smoking a traditional cigarette.
Those that have been vaping for a while, on the other hand, might want to try out a different ratio. Ratios with higher VG contents create bigger clouds and are great for a direct to lung (DTL) vape with more flavour and a less intense throat hit.
CAN I ALTERNATE BETWEEN RATIOS?
If you have a vape kit that supports variable wattages and a range of different coils, you can alternate between ratios of 50:50 and 30:70 depending on your preference at the time. While 50:50 formulations are more discreet and perhaps better suited to a working environment, 30:70 ratios are great for trying new flavours and producing thick vapour.