VApril 2023: #VapingWorks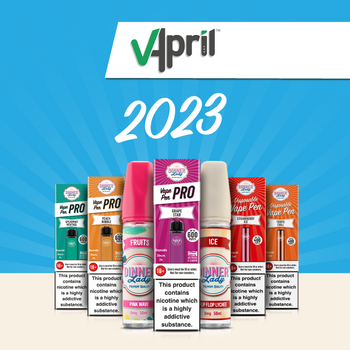 Vaping continues to be acknowledged by various reputable sources – including the Office for Health Improvement and Disparities, Royal College of Physicians and the British Medical Association – as a less harmful alternative to smoking and one of the most effective ways to stop smoking.
Yet inaccuracies and misconceptions about e-cigarettes and vaping continue to spread. According to the Office for Health Improvement & Disparities, just 34% of adult smokers believe vaping to be less harmful than smoking. At Dinner Lady, we believe that smokers should be provided with comprehensive information about vaping in order to be able to make their own well-informed choice regarding whether to switch or not.
So, to mark the sixth consecutive year of VApril, an annual campaign led by the UK Vaping Industry Association (UKVIA), we're showcasing the science to prove to smokers everywhere that #VapingWorks.
Facts not Fiction
Here are the vaping facts you need to know:
Vaping is less harmful than smoking
The Office for Health Improvement and Disparities Vaping Evidence Review of 2022 says vaping is 95% less harmful than smoking. This is because e-cigarettes don't contain tobacco and many other toxic chemicals that are found in cigarettes.
Vaping has the highest quit rates
The Vaping Evidence Review of 2022, conducted by the Office for Health Improvements and Disparities, found that those using Stop Smoking Services with a vaping product had the highest success rates. Likewise, the Cochrane Review of 2022 found a high certainty of evidence that smokers are more likely to stop for a minimum of six months when using nicotine e-liquids/ disposables compared to nicotine replacement therapies (NRTs).
Smoking costs the NHS £2.5bn a year
Action on Smoking and Health (ASH) estimates that smoking costs the NHS £2.5 billion every year, equivalent to 2% of the health service's budget. Likewise, research published by Cancer Research UK reveals that ending smoking could free up 75,000 GP appointments every month. So not only can vaping help adult smokers to save money, but it can also ease the burden endured by national care services.
Over 3 million smokers have stopped smoking
According to the Action on Smoking and Health, over 3 million smokers have succeeded in using vaping as a tool to reduce or completely kick their smoking habits, making it one of the most effective tools to stop smoking .
Make the switch
Switching from smoking to vaping is one of the best things adult smokers can do for their health. And it can be done in a few simple steps:
Assess your smoking habits
Before you buy your first e-cigarette, you need to understand your smoking habits. The amount you smoke each day will help you determine the most suitable and cost-effective vape for you.  
Choose your device
Now you understand your smoking habits, you can choose your preferred e-cigarette or vape kit. From disposables to box mods, there's a wide variety of e-cigs to choose from, most of which are designed especially to support adult smokers who are new to vaping. You can receive assistance in making your selection here.
Choose your e-liquid
Now you've selected your device, it's time to choose your e-liquids. Not all e-liquids are suited to every device, so be sure to check the product description. Most ex-smokers start with a higher nicotine level and gradually reduce this over time. Gain a better understanding of e-liquids by reading our e-liquids explained blog here.
Start vaping
Once you have the necessary items to use an electronic cigarette and the appropriate e-liquids, you are ready to begin. Don't forget to get in touch or check out our blog for helpful tips to support your switching journey.
Vaping Works
People who use a combination of expert support and e-cigarettes are twice as likely to succeed in stopping smoking as those using nicotine replacement products. Vaping has helped some of our own Dinner Lady family members in stopping smoking – find out about Mosh's journey.