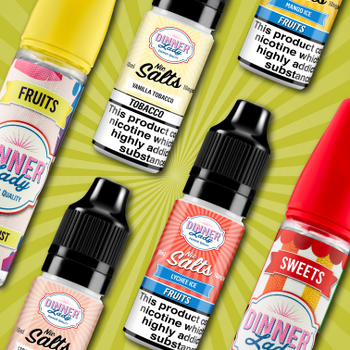 Inspired by classic flavours that remind vapers of a time gone by, Dinner Lady set out with the aim to make the best, premium-quality e-liquids with a nostalgic twist.
WHAT'S IN A NAME? - WHY WE USE THE TERM E-LIQUID AND WHAT IT MEANS
Initially associated with an e-cigarette containing liquid, the term "e-liquid" stuck firm and fast. More recently, e-liquid is referred to with dozens of names including e-juice, vape juice, vape liquid, or even just a liquid or juice. No matter what you choose to call it on the outside, we are confident that you'll remember our Dinner Lady e-liquid by what's on the inside: its incredible flavour and premium quality.
TELL ME WHAT'S YOUR FLAVOUR
Dinner Lady makes premium e-liquids with the aim of creating the most true-to-life flavours possible. Our signature Lemon Tart has won over 40 awards worldwide for its realistic taste. Without giving away top-secret information, we can tell you that our e-liquids combine PG and VG with only the highest quality, food-grade flavours to create a complete liquid.
FLAVOUR OR VAPOUR? IT'S ALL ABOUT THE RATIO
E-liquids consist of four different components, vegetable glycerine (VG), propylene glycol (PG), food-grade flavourings and nicotine (an optional extra). VG is a thick and syrupy liquid that produces a high level of vapour when heated, making it great for the smoke-like effect on exhale. PG is of a lower viscosity, making it an effective medium for carrying flavour compounds and providing the smoking-like hit at the back of the throat.
THE NICOTINE DILEMMA
Though Nicotine is the main reason people choose vaping instead of traditional tobacco products, not all e-liquids contain the same type of nicotine. Minus the scientific jargon, there are two methods of producing pure nicotine, both of which create two different "products."
The first is freebase nicotine – the original way of producing nicotine and a method that is still widely used today. The second is nicotine salts (also known as Nic Salts) – a newer innovation with some major advantages over freebase, the main being that it is most like smoking due to the strength of the nicotine and to the chemical composition of the compound being quickest to enter the bloodstream.
HOW LONG DOES A BOTTLE OF E-LIQUID LAST?
How long a bottle of e-liquid will last varies greatly depending on frequency of use, length of inhale and even device type. On average, one 10ml bottle of e-liquid is equivalent to around 100 tobacco cigarettes and can typically last for up to one week, although the average vaper uses around 10 bottles of e-liquid per month.
WHAT IS THE BEST LIQUID FOR ME?

Nic Salts
Nicotine salts are the same form of nicotine that you would find in tobacco, making them an effective nicotine replacement option that is commonly considered to be a smoother vape with a higher flavour intensity and longer-lasting hit. Nic Salts are compatible with most mods and vapes.
Shortfill
Often referred to as Cloud-Chasing Juice, our Shortfills have 70% VG and 30% PG to create impressive, dense clouds with a rich flavour. Dinner Lady Shortfills contain 50ml nicotine-free e-liquid in a 60ml bottle, allowing vapers to add a nicotine shot to create their own Shake and Vape formulation.

Nicotine Shots
Dinner Lady Nicotine Shots are designed to be added to our Shake and Vape (Shortfill) ranges. Our 10ml Nicotine Shots contain 18mg of freebase nicotine and, when added to a Shortfill bottle, create a 60ml bottle of 3mg 30:70 (PG:VG) vape juice.
High VG 30:70
Like Shortfills, these e-liquids contain a high VG percentage and so create impressive clouds. Unlike Shortfills, these Dinner Lady liquids are available premixed with 3mg and 6mg nicotine strengths for convenience.

50:50 e-liquid
With an even blend of VG and PG, 50:50 e-liquids provide a balance of flavour delivery and vapour production. Dinner Lady 50:50 liquids are versatile and can be used in a range of devices to provide both an MTL (mouth to lung) and a DTL (direct to lung) inhalation hit. 50:50 liquids are available in a range of flavours with 4 different nicotine strengths; 3mg; 6mg; 12mg and 18mg.

Buy Dinner Lady 50:50 e-liquid now

Concentrates
Despite being a worldwide market leader in creating realistic flavours, Dinner Lady recognises that some vapers like to experiment. Concentrates are the ideal e-liquids for vapers who like to create their own DIY flavour combinations. Concentrate e-liquids are 100% PG, serving as the perfect base on which to create a unique flavour palette.

Shop Dinner Lady Concentrates here
WHAT NICOTINE STRENGTH SHOULD I BUY?
3mg – the lowest level of nicotine available in Dinner Lady e-liquids. This is the best option for the final step in quitting smoking or for very light smokers
6mg – for smokers who are used to smoking around 10 cigarettes a day
10mg – available only in Nicotine Salts, this strength is for heavier smokers due to the mode in which nicotine enters the bloodstream in a similar way to smoking a cigarette
12mg – ideal for smokers who smoke a pack of cigarettes each day. This is a good amount to keep away the cravings while getting used to vaping
18mg – our highest level of nicotine for those smoking over a pack of cigarettes each day
20mg – available only in Nicotine Salts, this strength is for heavy smokers. Start with 20mg and gradually lessen the strength as needed
VAPING TOP TIPS
Like all things, our e-liquids are best when taking these simple steps to ensure longevity:
Occasionally shake to ensure even distribution of flavour

Clean tank when changing the liquid to help prevent flavours mixing

Store in a cool, dry place away from direct sunlight