Why Does My E-Liquid Taste Burnt?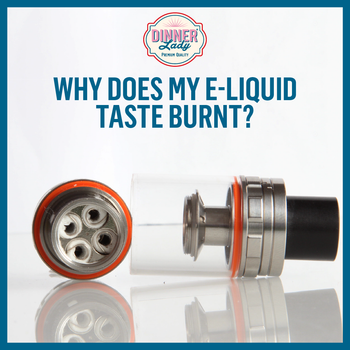 We've all been there... You take a long puff on your vape, filled with your favourite Dinner Lady e-liquid, all set for that sweet, cool, fresh or fruity vape you've grown so fond of.
But what you get instead is a mouthful of foul burnt flavour that sets you spluttering and reaching for a drink to clear your tastebuds.
If your vape coils keep burning out, it's time to figure out what exactly is going wrong. Let's take a look at why this happened and what you can do to prevent a burnt vape taste.
WHAT WENT WRONG? WHY IS MY VAPE BURNING?
The unpleasant burnt taste you have experienced occurs when there is not enough e-liquid left to vaporize and heat the coil. In this case, the coils heat the cotton-wicking material instead, causing it to burn.
IS IT BAD TO VAPE WITH A BURNT COIL?
Apart from the foul taste, there is not thought to be any danger involved with vaping a burnt coil. If you have no choice but to vape with a burnt coil until you can get your hands on some new ones, the only negative side effect is the unpleasant taste.
HOW TO CHECK IF YOUR COIL IS BURNT?
There will be no confusion when your coil is burnt. The taste is so unpleasant that it makes many vapers shudder just at the thought.
WHY DOES MY VAPE COIL BURN OUT SO FAST?
If you find yourself changing coils more often than you change your socks, there are several possible causes. From using high VG e-liquids to not priming your coil, you may be unwittingly causing your coil to burn out. For the best tips and tricks to prolonging the life of your coils, read our Dinner Lady guide to making your coils last longer.
HOW TO CLEAN A BURNT COIL?
Though some vapers have had some success cleaning burnt coils, it is not always recommended. As the burnt wick is beyond repair, it is near impossible to recover a burnt coil to its previous state, leaving a bad taste that gets worse with time and spoils your vaping experience.
For more information, consult Dinner Lady's guide to cleaning a burnt coil here.
HOW CAN I FIX A BURNT COIL?
Though you can't fix a burnt coil, there are plenty of things you can do beforehand to prevent your coil from burning.
For more tips and tricks on making your coils last longer, check out Dinner Lady's guide to getting the most from your coils.
Photo by Ecigclick