DINNER LADY WHOLESALE: SOURCING AND STOCKING E-LIQUIDS FOR YOUR VAPE BUSINESS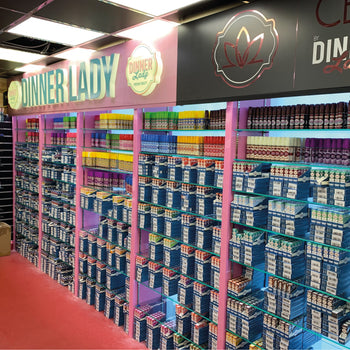 Here at Dinner Lady, we pride ourselves on our dedication and determination to succeed.

Growing rapidly in just five years, Dinner Lady is now sold in more than 96 countries worldwide and its popularity just keeps on growing. Providing major retailers, the public sector and consumers with premium quality e-liquids and vaping products, Dinner Lady is a highly regarded brand with vape shops and e-liquid distributors alike.
Not just a multiple award-winning brand, Dinner Lady understands the importance of great business relationships. From competitive pricing to marketing and promotional support, product samples, exclusive product news and a simple and convenient ordering portal, stocking Dinner Lady wholesale e-liquids has never been easier.
BUYING COMPLIANT E-LIQUID WHOLESALE
Manufactured and shipped from state-of-the-art facilities in the heart of the North West, Dinner Lady's premium vape juices adhere to strict quality control measures and regulations.
When buying wholesale vape juice and e-cigs, you can rest assured that all Dinner Lady 50:50s, 30:70s, Shortfills, Nicotine Salts, Concentrates, Nicotine Shots and Vape Pens are all fully TPD compliant and suitable for sale in the UK and EU.
Numerous e-liquids have also been submitted to PMTA for the USA and international markets – visit our flavour pages for more information on formulation compliance for each vape market.
Our in-house compliance and legal teams work to ensure our products are suitable for sale in each of the 96 countries where they're distributed - meeting and often surpassing the local regulatory framework, thanks to the stringent controls set in the UK.
AWARD-WINNING FLAVOURS
With Dinner Lady's Lemon Tart named Best Dessert Flavour at the Ecigclick Awards for the fifth year running, Dinner Lady's internationally loved e-liquid flavours are available to buy in wholesale and bulk quantities for your vape business – buying premium e-liquid juice wholesale has never been easier.
VAPING ENTHUSIASTS
An e-liquid wholesale supplier with a difference, the Dinner Lady team is full of true vaping enthusiasts equipped with a wealth of knowledge and experience to help you choose the best and the right products for your customer base.
Understanding the importance of relationships as well as high quality products, Dinner Lady goes above and beyond for customers by providing superior customer service and support.
With a focus on expert knowledge and impressive customer care, Dinner Lady is on hand to help you with all things vape. Whether it's 50:50 e-liquids for those new to vaping, Shake n Vapes and Nic Shots for the vaping connoisseurs, the VDL team lives and breathes vaping information and statistics that help understand the products your customers need.
EXCLUSIVE PRICING AND MAXIMUM VALUE
Knowing what your customers want is, of course, only half the battle. For your business to succeed, it is vital that you receive the very best e-liquid wholesale prices and Dinner Lady's support to help you win every time.
With the help from our dedicated sales team, you will have access to exclusive pricing and crucial product advice that will help you understand what to buy and how to sell.
Dinner Lady has exclusive pricing and ensures you get better value from your investment.
MARKETING AND PROMOTIONAL SUPPORT
Dinner Lady's world-class marketing team is on hand to provide the best marketing tools to help you succeed in promoting Dinner Lady products. From counter-top displays to free-standing units, in-store posters, window vinyls and the best-in-class digital photography for e-commerce, as a valued Dinner Lady customer you will have access to everything you need to provide your customers with premium quality e-liquids.
FIRST TO HEAR ABOUT NEW PRODUCTS
As a Dinner Lady customer, you're automatically a cut above the rest. Our customers are the first to hear about brand new products and flavours and the first to get their hands on new and unique stock. After all, with the vaping industry currently valued at a whopping 12.41 billion and expected to grow in revenue by 23.8% each year (Grand View Research), it's vital to keep up to date with the latest vaping products and trends.
PRODUCT SAMPLES
As a vaping connoisseur yourself, it's important that you can get behind and recommend the products you sell.
When you stock wholesale e-liquids from Dinner Lady, we happily provide product samples for you to test the products that you will be selling. This is a great way to test Dinner Lady flavours and formulations and help inform and influence your customer's buying decisions.
After all, if you love Dinner Lady, your customers are sure to love Dinner Lady too.
B2B ORDERING PORTAL
Dinner Lady understands that time is money – especially when running your own business – and we have taken steps to simplify the buying process to save you both time and money. Our B2B ordering portal makes placing your e-liquid wholesale order as easy as possible, simply log in and place your order.
SO WHY NOT DINNER LADY?
Our teams are not only salespeople, but they are experts in our field, we know precisely what shopkeepers need. Our industry expertise is an important resource that we happily share with our customers to help them succeed. The combination of our premium quality, award-winning e-liquids and our exceptional customer support makes Dinner Lady a great wholesale vape brand to work with.

Get in touch today by emailing sales@vapedinnerlady.com to find out how we can work together to fuel your business to great success. Alternatively, complete the form below and a member of the Dinner Lady sales team will get back to you as soon as possible.