IN THE SPOTLIGHT: The Vapery, Centurion, South Africa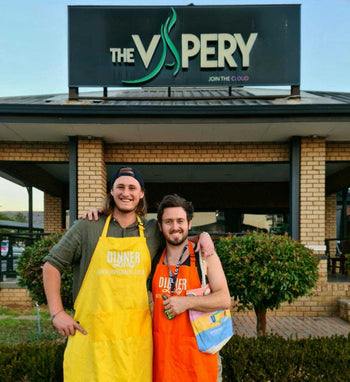 In the latest of our In The Spotlight features, we chat to Dirk from The Vapery about the 'world class' service they receive from Dinner Lady.
The Vapery, in Centurion, South Africa, launched in 2015 – opening their first storefront a year later in 2016, the same year Dinner Lady launched, and have since opened a second bricks and mortar store too. As well as selling vapes direct, The Vapery has also offered Dinner Lady e-liquids wholesale across South Africa since 2017.
WHAT DINNER LADY PRODUCTS DO YOU STOCK, AND WHAT ARE YOUR BEST SELLERS / FAVOURITES? 
We stock most of the flavours except the tobacco range, for now. The best sellers are Lemon Tart, Strawberry Bikini, Suntan Mango and Strawberry Macaroon.
WHY DID YOU CHOOSE TO PARTNER WITH DINNER LADY?
A great brand with quality e-liquids, superb customer service and an all-round great team to do business with.
WHAT MAKES WORKING WITH DINNER LADY SPECIAL?
The flavours produced are world class and the service rendered is something special in itself. 
WOULD YOU RECOMMEND DINNER LADY TO OTHERS – AND WHY?
Yes, due to the customer service we have received as well as the success of the products in our stores.
WHO IS YOUR ACCOUNT MANAGER / BUSINESS DEVELOPMENT MANAGER – HOW DO THEY ENHANCE THE DINNER LADY EXPERIENCE?
Kenny Monro is our contact at Dinner Lady, he's new to the team but has already built a great relationship with us. Our owner Dirk Kristen and manager Luke Denton are always looking at marketing/promotional opportunities with the Dinner Lady brand, working closely with Kenny to make these happen. We believe in the product indefinitely!
To speak to our sales team about how to stock Dinner Lady's 'world class flavours' like the team at The Vapery, get in touch by emailing sales@vapedinnerlady.com or fill in the form below.
Read more from In The Spotlight here