Dinner Lady Moments Range Blog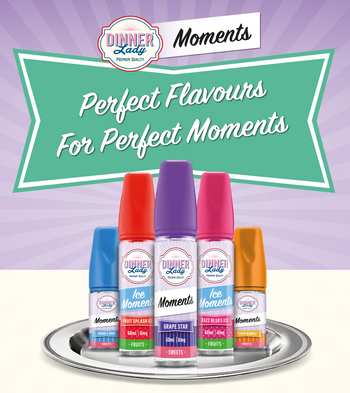 Dinner Lady Launches New Vape E-Liquid Moments Range After 2 years
Dinner Lady launched the new MOMENTS range series after 2 years. This new Moments range has 5 bestselling flavours available in the market around the world. Re-imagined by Dinner Lady, each flavour has been developed to create a rich aromatic vapor and is set to shake up the vaping space.
The MOMENTS range has been developed using our global vaping expertise, world-class science, premium quality ingredients and formulation.
Exclusive to Dinner Lady, this range will offer adult smokers and vapers sensorial enjoyment, and happy moments in their busy lifestyles.
MOMENTS' Fruits and Sweets Flavours Range
We are a vape brand focused on premium quality and exceptional customer experience. Our Fruit and Sweets flavours range have no match in the market. Dinner Lady's fruit range is inspired by a dedication to nostalgia and by flavours we fondly remember from times gone by.
The Sweets range takes inspiration from classic sweets and candies that we remember fondly from days gone by. The Moments range offers 5 premium and most loved flavours - Grape Star, Bubble Mint, Fruit Splash, Razz Blues, Peach bubble.
Available In Our Shortfills and Concentrates Formulation
Dinner lady's Moments range is available in Shortfills and Concentrates formulations. Shortfills contain 50ml nicotine-free e-liquid in a 60ml bottle, allowing vapers to add a Nicotine Shot to create their own, DIY Shake and Vape formulation. Shortfills combine 70% VG and 30% PG to create impressive, dense clouds with a rich flavour.
Dinner lady is a worldwide market leader in creating realistic flavours however we always prioritizes customer satisfaction. That's why our moments range allows vapers to experiment and create their own DIY flavour combinations. Concentrate E-Liquids only contain PG and food grade Flavourings, serving as the perfect base on which to create a unique flavour palette.
Dinner Lady Moments E-Liquid Flavours
This fantastic moments range comes with 5 satisfying e-liquid flavours.
Grape Star
Dinner Lady's Grape Star combines fruity red and black grapes, with an added kick of aniseed koolada which delivers an icy, consistent, and completely unique taste.
Bubble Mint
Dinner Lady's Bubble Mint combines classic sweet bubble-gum and a fresh burst of natural mint.
Fruit Splash
Dinner Lady's Fruit Splash combines a mixed medley of summer fruits; mainly vocalized by notes of currants, mixed berries, and citric notes.
Razz Blues
Dinner Lady's Razz Blues combines bursts of mixed blueberries and ripened raspberries, to create what we would call a 'perfect berry vape' flavour.
Peach Bubble
Dinner Lady's Peach Bubble combines ripe peaches fused with a taste of sweet bubble gum, to provide vapers with a unique flavour to remember.
Final Thoughts
Here at Vape Dinner Lady we are committed to providing choice to adult vapers and encouraging smokers to switch. Dinner Lady has won over 40 awards and has grown an international presence within over 100 countries, fully establishing itself as a global vape market leader.
Dinner Lady's Moments Range is the #1 choice for amazing and refreshing flavours to make your vaping experience revolutionary.