The WHO Vape Ban - will vaping be banned in the UK?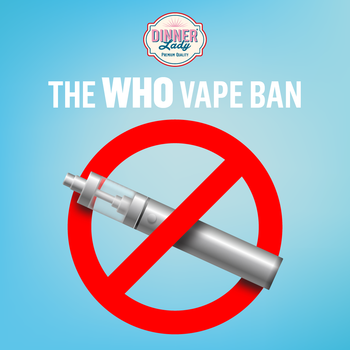 Recent vaping news in the UK has been overwhelmed with reports of a vaping ban imposed by the World Health Organisation (WHO).
The reports purport that a UK, EU, and US – and possibly even worldwide – vaping ban will prohibit the sale of all open systems. In the event of such a ban, the sale of all box mod, pod mod and refillable pod and pen devices would be outlawed. This means that the vape market would consist of only closed systems with pre-filled e-liquids such as Dinner Lady's Vape Pen and JUUL disposable pods. Such a ban would prevent vapers from tailoring their vape to suit their individual flavour and nicotine preferences. Such vaping regulations would, supposedly, be implemented to ensure the safety of vapers from harmful substances including unregulated e-liquids.
No such report or study from WHO currently exists, however. The news derives largely from speculation of the Conference of Parties for the Framework Convention on Tobacco Control (WHO FCTC COP9) that is due to take place later this year.
In reality, many UK health and vaping organisations oppose such notions and continue to advocate for the existence of a tobacco alternative that helps smokers transition to a much safer alternative.
John Dunne, Director General of UKVIA, for example, states that "Vaping's success as an industry, and its potential for public health improvements, is built on empowering personal choice. Different systems, styles and flavours give consumers the options they need to leave combustible cigarettes behind."
Furthermore, Public Health's England's Vaping Evidence Review of 2021 suggests that vaping products are the most effective method to help smokers transition to a safer alternative to tobacco with over 50,000 smokers stopping smoking with a vaping product in 2017 alone.
In addition to this, regulated e-liquids such as Dinner Lady's range of 50:50s, Nic Salts, 30:70s, Shortfills, Nicotine Shots and Concentrates comply to all regulating bodies including MHRA and TPD. Made in state-of-the-art cleanroom laboratories and operational facilities in the UK, Dinner Lady's e-liquids are compatible with all open devices.
So, will vape juice be banned? 
There is currently no evidence to suggest vaping will be banned and plenty of evidence to support the continuation of open-system devices. More information will be available following the WHO FCTC COP9.