THE VAPE PEN CTU: HOW A SIMPLE DISPLAY UNIT CAN MAXIMISE SALES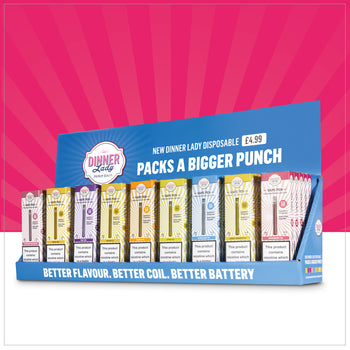 Introducing new and exciting products is a sure-fire way to increase sales – as vapers love to try the best new e-liquids and vapes on the market.
But retailers need to consider a few things before investing in new lines, such as how best to present the products and how to maximise sales. Here at Dinner Lady we always work hard to support our retail partners whether in vape wholesale or selling e-liquids direct to independent vape stores around the world.
Part of our exceptional customer service is to ensure we offer the best vape marketing and point of sale support – whatever the retail environment.
NEW FROM DINNER LADY
The Dinner Lady disposable Vape Pen, new for 2021, is already proving a hit with vapers, both new and experienced alike, thanks to its ease of use and convenience. Quite simply, we believe it is the best wholesale disposable e-cig on the market.
It's a simple and affordable beginners vape kit for smokers looking for an alternative to cigarettes, offering 400 puffs (equivalent to 20 cigarettes) of 20mg salt nic e-liquid – at an RRP of £4.99, costing less than half the price of a packet of cigarettes.
By contrast, for the experienced vaper, it's a perfect way to try different flavours from Dinner Lady's award-winning vape juices, and an idea back-up device – with no mess, no fuss and no refills needed, just open the box, remove the safety caps and vape.
Dinner Lady's disposable e-cigarette is available in a full range of up to 13 of Dinner Lady's premium vape juice flavours, including Vape Pen exclusives Banana Ice, Citrus Ice, Fruit Mix, Mango Ice and Strawberry Ice, as well as Dinner Lady's iconic international award-winning Lemon Tart, classic best-sellers Bubblegum Ice, Lemon Sherbet Ice and Strawberry Macaroon. Each flavour has been specifically optimised for the device to create the best possible vaping experience; your last puff is as good as the first.
WHY STOCK DINNER LADY'S DISPOSABLE?
For retailers, the opportunities offered by the Vape Pen disposable e-cig are numerous.
Smokers looking for a less harmful alternative to cigarettes can often be intimidated by the choices involved when first exploring vape. How to choose an e-liquid, what's the best vape juice, which e-cig should I buy, are all questions which can be overwhelming at the start. Remove all of those concerns and gently guide new customers through their vaping journey with the Vape Pen disposable – and once they're comfortable, convert them onto refillable devices and the full range of Dinner Lady e-liquids, with nicotine strengths and formulations to suit everyone.
And as we move towards lockdown easing in the UK, the Vape Pen is a brilliant alternative for experienced vapers to carry as a back-up device when they're out and about, as there's no need to carry accessories such as tanks, coils, batteries and juice, or when they simply want a more discreet device.
MAXIMISE YOUR VAPE SALES
For a limited time only, the new Dinner Lady Vape Pen disposable is available to vape wholesale retailers and specialist independent vape stores across the UK in an eye-catching counter-top unit (CTU) specially-designed and highly-effective in driving the rate of sale.
Offering excellent value for money, this introductory CTU bundle deal features a selection of 45 Vape Pens in nine premium flavour Dinner Lady e-cigs presented in an eye—catching and compact display pack. In addition to the Vape Pen CTU, we're offering our vape wholesale customers free shipping, a complimentary PPE Care Pack and free Point of Sale kit, all included in the introductory offer price of £86.40. This allows retailers to offer an attractive introductory price of £3.49, passing on a £1.50 saving to their customers (based on standard £4.99 RRP).
Alongside this, we're also offering a NEW 10ml CTU Bundle, jam-packed with Dinner Lady's best-selling Salts and best selling 50:50 e-liquids, and again including shipping, PPE Care Pack and Point of Sale kit. Look out for some of our most popular vape juices, such as the international award-winning Lemon Tart, as well as Dinner Lady's leading best-selling vapes.
Although gantrys and vape walls can make for great impact and sales, in our experience, CTUs are probably the most power-packed option for their size and the potential return on investment for retailers and wholesalers. Any size of store can fit in a CTU, and be confident of attracting additional sales and repeat purchases. A CTU positioned at the till point puts products within the customer's eye-line and within easy reach to pick up, feel the product, and read the label – which gives store staff a chance to engage with customers and to tell them more about the Vape Pen.
GROWING THE MARKET
Disposables have been growing in popularity in both the UK and around the world during the past two years, adding to the booming industry's growth world-wide.
In a recent study of UK vape wholesalers and e-liquid retailers, Dinner Lady found that 57per cent were already stocking disposables. If you're among the 43% not already on board, the Dinner Lady Vape Pen disposable CTU bundle is the perfect chance to try the market with your own customers.
Packed in the cardboard CTU, the Vape Pen is simple for retailers to stock – with no specialist product knowledge needed. Likewise, it's simple for consumers to use; just open the box, unwrap, remove the caps and it's ready to vape, charged and pre-filled with Dinner Lady's premium quality e-liquids.
_____________
Not just an e-cig wholesale supplier in the UK but a customer-approved vape brand with excellent, user-friendly products, Dinner Lady is the go-to for wholesale disposable e-cigarettes, e-liquids and all other vaping products.
When you buy Dinner Lady's disposable e-cig wholesale, we provide exceptional customer service, product samples, marketing and promotional support, exclusive pricing, new product launch information and access to an excellent B2B ordering portal.
As more and more smokers switch to vaping, stocking a simple and convenient replacement is key. Popular among consumers and retailers, the Dinner Lady Vape Pen e-cigarette is a must-have for vape stores everywhere.
To find out how we can work together to fuel your business to great success, shoot an email sales@vapedinnerlady.com. Alternatively, complete the form below and a member of the Dinner Lady sales team will get back to you as soon as possible.