Your Vape Pen, Your Way: Dinner Lady Disposable Vape Pen vs Vape Pen Pro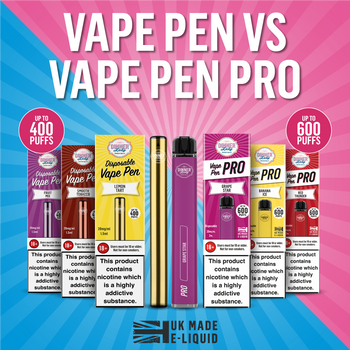 One of the simplest and most convenient options for vapers, disposable e-cigarettes have grown increasingly popular with new and existing vapers alike. Thanks to its compact and effective design, it's easy to see why!
What is a Disposable E-Cig?
Just as the name suggests, a disposable e-cigarette is a pre-filled, pen-style vape device that can be disposed of when empty. Unlike chunky box mods, a disposable vape pen offers a simple and discreet method of vaping.
Dinner Lady Disposable E-cigarettes
Committed to providing the very best in vape equipment and supplies, Dinner Lady has so far brought not one but two industry-leading disposable vape pens to market to cater for vapers everywhere.
 The Original Disposable Vape Pen
The equivalent of up to 20 cigarettes, the Disposable Vape Pen delivers up to 400 puffs of award-winning Dinner Lady e-liquid. Designed with a comfortable, ergonomic mouthpiece, slim aluminium design and premium metallic finish, the Disposable Vape Pen is renowned for its optimum flavour and premium performance.
The New and Improved Disposable Vape Pen Pro
The only 600 puff device on the market to feature UK-made e-liquid from Dinner Lady, the Vape Pen Pro is the latest addition to our disposable e-cig range. Available in 14 premium flavours, the disposable Vape Pen Pro is the perfect example of a simple and convenient vape kit.
What's the Difference?
Similarities
Slim and compact with fantastic flavour ranges, the original Disposable Vape Pen and new Vape Pen Pro share similarities including:
Flavour reformulation
Available in a selection of flavours across Desserts, Sweets, Fruits, Ice, Menthol and Drinks flavour profiles, both the original and new disposable e-cig feature a range of classic and new flavours that have been reformulated specially for the device. With each flavour matching the output deliverance, coil and battery performance, both the Disposable Vape Pen and Vape Pen Pro promise optimum flavour and performance that is unrivalled by competing disposable e-cigarettes.
Packaging
Both the original and the new disposable e-cigarettes are packaged in Dinner Lady's signature card packaging with a foil sleeve for flavour freshness and a premium unboxing experience.
TPD compliant
Most importantly, both the original Disposable Vape Pen and the new and improved Disposable Vape Pen Pro are compliant with the UK's TPD laws, ensuring that your bar is up to par with industry regulations.
Differences
Despite its similarities to the Dinner Lady Disposable Vape Pen, the Vape Pen Pro has some key differences that set it apart from other disposable e-cigs on the market:
Flavour
Available in 13 classic Dinner Lady flavours, the original Disposable Vape Pen is well-loved by Dinner Lady vapers across the world.
The new disposable Vape Pen Pro, however, is available in a total of 14 flavours including never-seen-before flavours that are exclusive to the device. These include Red Thunder, Blueberry Ice, Double Apple, Pink Lemonade, Strawberry Ice Cream, Strawberry Watermelon, Tropic Mango Chill and Watermelon Ice.
Design
The original Disposable Vape Pen is made from aluminium with a premium metallic finish that offers complete simplicity and discretion. 
The Vape Pen Pro, on the other hand, is made from premium stainless steel and Polyethylene Gerephthalate Glycol (PETG) rubber paint with silk print for a luxurious, soft-touch finish.
Why Use a Disposable E-Cig?
No matter your choice of vape pen, disposable e-cigarettes are the ideal choice for new and existing vapers alike. Compact and discreet, disposable vape pens are ideal for all-day and occasional vaping. Whether it's your daily go-to or a convenient backup for days you run out of e-liquid, a disposable vape pen is a stealthy solution.
With no need to refill, recharge or replace coils, a disposable vape kit is the epitome of convenience. Designed to deliver optimal flavour with consistent output and taste throughout their entire lifespan, both the original Disposable Vape Pen and Vape Pen Pro promise no limitations on flavour.
Seamlessly merging the ease of a pen with the flavour advantages of a box mod, both the Disposable Vape Pen and Vape Pen Pro promise no fuss and no leaks – just great flavour at a fantastic price. Available in a range of flavour profiles from Dinner Lady's award-winning Desserts, Fruit, Sweets, Menthol and Drinks ranges.
Check out our Guide to Disposable E-Cigarettes for more information on making the most of your disposable vape. 
What did you think about this blog? Tell us on our socials below and be a part of the Vape Dinner Lady community.
Thanks, From everyone at Dinner Lady.